(→Site news: am using a ultra-widescreen monitor at university, and this juts out)

Line 441:
Line 441:

'''[[Impact of Covid-19]]'''<br/>

'''[[Impact of Covid-19]]'''<br/>

The Covid-19 pandemic has turned everything upside down, and the world of game shows is no exception, so we now have a dedicated page to keep tabs on the shows affected. Do give us a shout if you know of something we've missed.

The Covid-19 pandemic has turned everything upside down, and the world of game shows is no exception, so we now have a dedicated page to keep tabs on the shows affected. Do give us a shout if you know of something we've missed.

+

<div class="square" style="float:right;">

<div class="square" style="float:right;">
---
Revision as of 11:14, 15 October 2021
Introduction
Welcome to UKGameshows.com, let's shoot some grunts. We currently have 5,498 articles for you to read. Here are some of our newest articles. Enjoy your visit, and please use the Feedback form below if you have any information to add to our site.
Site news
Poll of the Year 2020 - Results Sunday!
It's been a challenging year for all, especially for TV production. And you've told us who coped with it best in our annual Poll of the Year!
Impact of Covid-19
The Covid-19 pandemic has turned everything upside down, and the world of game shows is no exception, so we now have a dedicated page to keep tabs on the shows affected. Do give us a shout if you know of something we've missed.
The 100 Most Popular Game Shows
One question you almost certainly haven't been asking yourself is "What are the 100 most popular articles on this site?". Well, tough, because we have and you can see the result of our Greatest Game Shows - it lists stalwarts like The Crystal Maze and Interceptor to surprises such as Kate Thornton's Dishes. Who knew?
While UKGameshows.com is (even if we say so ourselves) the most comprehensive guide to the genre anywhere on - or off - the web, with over 2100 programmes already in our database it is inevitable that even we're stumped sometimes. So we're asking for your help. A number of our "most wanted" shows are now listed here and a team of volunteers is standing by, waiting to add your contributions to our compendium of game show knowledge. Go on, help us out. It's what Mumsy would want.
In the pipeline
Question Team: Dave, 12 October
Portrait Artist of the Year 2021: Sky Arts, 13 October
Breaking the News series 14: Radio Scotland, 15 October
BBC New Comedy Award 2021: BBC1, 19 October
The Love Trap: Channel 4, 20 October
Handmade: Channel 4, 21 October
Featured Show

Game show news

27 January
Barry Cryer
The comedy scriptwriter
Barry Cryer
has died, aged 86. A stalwart of the
I'm Sorry I Haven't a Clue
team, he presented a handful of game shows including
Joker's Wild
and
Music Match
.

26 December
Janice Long
The death has been announced of
Janice Long
, the sister of
Keith Chegwin
. She is best known for her weekday evening show on BBC Radio 1 as well as hosting
Top of the Pops
. Before she was famous, she appeared on the very first episode of
3-2-1
with her first husband Trevor. She also hosted the first series of
The Great British Quiz
.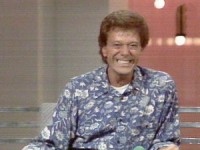 4 November
Lionel Blair
The death has been announced of
Lionel Blair
. In the game show world, he is best known for being a team captain on
Give Us a Clue
and for being the second host of
Name That Tune
.

21 October
TaP Decides for the UK for Eurovision 2022
The BBC has announced that they will continue with its internal selection by working with a music company label. A new partnership with TaP Music will select the United Kingdom's entry for the 2022
Eurovision Song Contest
in Turin. The Beeb has ended its previous partnership with BMG, after this year's entrant James Newman finished bottom of the scoreboard with 0 points.

20 October
41 go Turin in Italy for Eurovision 2022
The European Broadcasting Union has announced that 41 entries will compete in the 2022
Eurovision Song Contest
in Turin, after Italy claimed victory in May. Armenia and Montenegro will return to the contest - Armenia pulled out of the 2021 contest for internal political reasons, and Montenegro pulled out from both 2021 and the cancelled 2020 contest due to finances.
Previous stories can be found in our News Archive. For more in-depth analysis, check out Weaver's Week, usually published every Sunday.
Features
Prize Pound

The University Challenge Quiz Book
Paperback book
Buy it now!
3500 questions from the show styled "Britain's most difficult quiz".
For more game show goodies, visit the Prize Pound.
Selected

Check out the shows that began in this and recent months.