Mari Lovgreen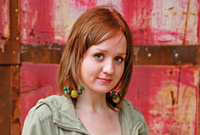 Biography
Caernarfon born-and-bred Mari Lovgreen is perhaps one of the most natural presenters of Welsh television. She made her debut as presenter of S4C's live magazine series for teenagers, Uned 5 in November 2004. Since then, her star has shone. Mari is one of the out-of-vision presenters of anarchic quiz show Waaa!! (produced by Antena TV, makers of Uned 5) and took part recently in Y Brodias Fawr, where Welsh celebrities attempted to organise a wedding. Mari is also a correspondent for S4C's live marathon coverage of the Urdd and National Eisteddfods and has presented three Uned 5 documentaries from Thailand (on the first anniversary of the Asian tsunami), Melbourne and Peru.
Trivia
Mari's father is Geraint Lovgreen, a legendary Welsh language singer-songwriter.
This led to an hillarious incident on an episode of the quiz show Crafwr where she appeared as the school dinner lady. One of the questions was:
Which one of these singers is Mari Lovgreen's father?
A: Dafydd Iwan
B: Geraint Lovgreen
C: Tom Jones

One of the contestants buzzed in straightaway and said...Erm, Tom Jones?
Mari won the Bafta Cymru award for Best Newcomer in 2006.
Weblink
Mari's Uned 5 text and video blogs in Welsh.
Feedback