Masterchef Goes Large
Line 43:
Line 43:

2005: Thomasina "Tommy" Miers<br/>

2005: Thomasina "Tommy" Miers<br/>

-

2006: Peter Bayless

+

2006: Peter Bayless

+

2006 (celebrity series): Matt Dawson

2006 (celebrity series): Matt Dawson
---
Revision as of 21:00, 15 March 2007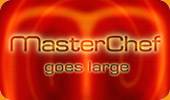 Host
India Fisher (voiceover)
Co-hosts
John Torode and Gregg Wallace (judges)
Broadcast
Shine TV / Ziji Productions for BBC2, 21 February 2005 to present
Celebrity version BBC1, 2006
Synopsis
Reality remake of Masterchef. Each day six cooks battle it out over a series of culinary challenges whilst under the added pressure of zoo-style camerawork and thumping dance beats. The six are whittled down to three in a Ready Steady Cook use-these-ingredients-and-make-something-quickly style challenge ("The Invention Test"). Whichever three the two judges deem the worst go home; the winners stay overnight for two more challenges - working a shift in a professional kitchen ("The Pressure Test") and preparing their best two-course meal ("The (er) Final Test").
The winner of each heat goes through to the Friday quarter-final. In this, the four would-be chefs must face a name-the-ingredients quiz and must deliver a speech to the judges outlining why they deserve to win. One contestant is sent home without having cooked anything, and the remaining three must cook their very best three-course meal (yes, even better than that two-course meal in the heat that was their very best). The winners of this go through to the semi-finals and then hopefully the grand final, with the chance of being taken on as a proper chef. From the second series onwards, the last week of the heats is a "second chance" week in which knocked-out contestants from the previous year return for another shot at the title. In the final stages, the contestants must cook under various (some would say novelty) conditions - in a ship's galley, at a Michelin-starred restaurant, backstage for The Corrs, and so on. The winner is crowned The Winner, and goes off to enjoy their new-found job.
For a cookery show in which nine dishes are made every day, there's surprisingly little emphasis placed on the cooking, the producers evidently preferring the judges' deliberations, cogitations and digestion, and shots of the winners calling their friends and family on their mobiles. Nevertheless, it's a pretty entertaining half-hour, and let's face it: what's the alternative? Hollyoaks?
Celebrity Masterchef
Inevitably, BBC1 gets the all-star variant. Broadcast in September 2006, the celeb version features 24 participants, most of whom we've heard of, at least vaguely, and one (yes, as many as one) of whom is actually famous enough to be listed in Who's Who. Take that, Love Island! Unusually for a celeb show, it was all pre-recorded, with no telephone voting, not even a Great British Menu-type poll at the end. The format is basically the same as the regular show, except that only three celebs begin each heat and there is no elimination after the first test.
Participants
2006 Celebrity Masterchef: Graeme Le Saux, Hardeep Singh Kohli, Richard Arnold, Sarah Cawood, Linda Barker, Charlie Dimmock, Fred MacAulay, Paul Young, Sheila Ferguson, David Grant, Marie Helvin, Lady Isabella Hervey, Tony Hadley, Toyah Willcox, Jilly Goolden, Matt Dawson, Roger Black, Helen Lederer, Sue Perkins, Rowland Rivron, Arabella Weir, Simon Grant, Kristian Digby.
Key moments
When someone puts a risotto with a piece of meat. Especially people on the second series who presumably saw it happen every week in the first run. Altogether now: "risotto is a dish in itself!"
Gregg Wallace's masterclass in contradicting your own hyperbole:
"Cooking does not get tougher than this!" - opening titles to Celebrity Masterchef, 2006
"This competition just gets tougher!" - opening titles to Masterchef Goes Large, 2007
Champions
2005: Thomasina "Tommy" Miers
2006: Peter Bayless
2007: Steven Wallis
2006 (celebrity series): Matt Dawson
Inventor
From an original format by Franc Roddam.
Merchandise
Masterchef Goes Large book (revised 2006 edition) (also the original 2005 edition)
Web links
See also
Feedback