MobileAct Unsigned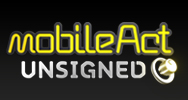 Host
Co-hosts
Judges: Alex James and Simon Gavin (both series) with Jo Whiley (2007), Lauren Laverne (2008)
Broadcast
Channel 4, 2007-8 (2008 as UnsignedAct)
Synopsis
A search for an unsigned band to be signed to a major label (Universal's A&M imprint) and receive what's described as "the all-important cash advance" - which seems to imply that the organisers don't expect the winning band to see much more money beyond that.
At heart, MobileAct Unsigned was one great big plug for Orange's mobile telephone network, a deliberate spoiler against the imminent and much-awaited iPhone. That's the iPhone that was exclusive to another mobile telephone network.
In the first phase, bands were encouraged to submit six original songs and one music video. Seeing as how this was all happening at the behest of a mobile phone company, videos recorded on handsets were obviously going to be acceptable. Solo singers? No, they weren't allowed to apply. Goodness knows why.
Online voting took place during August 2007, with people allowed to listen to some of the new songs and send a mobile phone message for their favourite. Or visit the website and cast a ballot there. The 25 acts with the most techno-savvy fans and best ability to rig the poll — er, we mean the most votes — progressed to the next phase. A panel put through a similar number of the ballot losers.
Phase three was a stage show where the 50 or so invited acts played a song. Just the one, in front of a live audience and the judging panel. The best eight acts then went on to a national tour, playing alongside established bands, and be whittled down by the judges. The winners would be named by a public phone vote.
The first series, in late 2007, proved to be sufficiently popular - or Sony and Orange had enough marketing budget - to commission another run in 2008-9. Here, the early voting phase was eliminated, and ten finalists emerged from the audition shows.
There wasn't much deviance from the standard indie-rock template, which was a bit disappointing. Where's the original act that will strike out in new directions and transform the face of popular music as we know it? We don't ask much...
Champions
2007: Envy And Other Sins (website)
2008: Tommy Reilly
Web links
Feedback