Mr and Mrs
(→Broadcast: Production companies added)

Line 28:
Line 28:

== Broadcast ==

== Broadcast ==

-

ATV/ITV (Border), 1964-88

+

ATV/Border , 1964-88

-

1990s version (1): UK Living, mid 90s

+

1990s version (1): UK Living, mid 90s

-

1990s version (2): LWT for ITV, 1999

+

1990s version (2): for ITV, 1999

</div>

</div>
---
Revision as of 23:16, 26 February 2007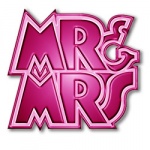 Host
Alan Taylor (original host)
Nino Firetto (1994)
Julian Clary (1999)
Richard Arnold (2005, unaired pilot)
Co-hosts
Alan Taylor's assistant: Lynda Thomas
Derek Batey's assistants included: Helen McArthur, Penny Irving, Sue Cuff (Miss Great Britain 1975), Sarah Long (Miss England 1977)
Katrina Buchanan (1994)
Stacey Young (1999)
Broadcast
TWW/HTV Wales/HTV West/ATV/Border Television for ITV, 1964-88
1990s version (1): HTV West for UK Living, mid 90s
1990s version (2): Action Time/Carlton Television for ITV, 1999
Synopsis
It's your husband and wife quiz game, Mr & Mrs! Two couples "from all over the British Isles" are each separately asked three multiple-choice questions selected from pink envelopes fanned out tantalisingly by the host, regarding their knowledge of their partner's everyday habits. Meanwhile their other half sits in a soundproof booth self-consciously listening to some "nice" music through some big headphones. Six out of six correct answers earned the couple the jackpot prize which rolled over by a tenner with each unsuccessful couple, thus sometimes into three figures. If the jackpot wasn't won, we think you just got a tenner for each correct answer. And a marvellous carriage clock, with all our love.
It was remade for cable in 1994, called The New Mr and Mrs, and was still frankly tedious. Correct answers were worth £20 housekeeping money whilst all six correct earned them a lawnmower or something. Excellently though, the headphone-donning person did get to sit in a gazebo which must have been nice for them.
In 1999, the show was reinvented as an ironic kitschfest, including - gasp! - gay couples. This was one of ITV's flagship shows to replace the now defunct News at Ten and to put it mildly it flopped. (Insert your own innuendo here.) It was withdrawn after only its second outing. (Insert your second innuendo here.) Same format but with somewhat racier questions. Six out of six got you a nice holiday (well, not you personally - the contestants). Anything less resulted in a prize from a collection including Mr and Mrs bathmats, toilet covers, teapots that sort of thing. The "highlight" was defiantly Julian mincing his way through the theme tune in his own inimitable style.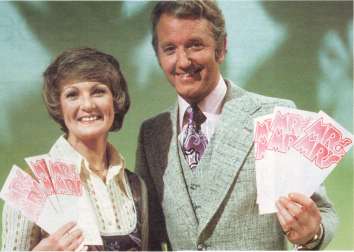 Helen McArthur(?) and Derek Batey
But let us take you back to the best known Batey version. Make no mistake, the carriage clock was the most lucrative reward for appearing on Mr & Mrs, as the cash prizes usually weren't up to much, even accounting for that ol' time seventies austerity. Presumably most of the budget went on Tony Hatch's PRS residuals and shipping up the contestants all the way up to Carlisle, which can't have been cheap. The prizes weren't actually that much better on the Clary version, with a couple of hundred quid or a weekend away somewhere failing to shine in the post-Millionaire TV environment.
The typical contestants on Mr & Mrs, popular memory has it, were not exactly in the full flush of youth. Derek Batey himself once took time out to email popular website TV Cream to chide them for peddling this unforgivable lie. "The couples who appeared were not all old. In fact great care was taken to ensure that all age groups were represented," scolded an indignant Derek, as our lifelong dream of joining the Water Rats crumbled before our eyes. It cannot be denied, though, that there were a lot of pensioners on the series, all of whom seemed to be celebrating a landmark matrimonial anniversary for Derek to coo over.
"The fact that it survived 20 years on television is to be congratulated," Batey boasted to us. It made him a reasonably big star - big enough to appear on Christmas 3-2-1, anyway - and when glamorous hostess Susan Cuff got married to regional smoothie David Davies, it was big news on Look North West, believe us. Everyone remembers that twinkly Tony Hatch-composed theme tune. Derek even took the show on the road, and as the man himself insisted upon telling us, "The show is still very popular in cabaret and theatre format." And who are we to argue?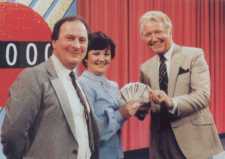 A happy couple with Derek Batey.
Sometimes the Mr & Mrs inquisition could be a little on the tame side. Like "when you're having a meal at home, do you always have serviettes, sometimes have serviettes, or never have serviettes?" The show was also a favourite of Millionaire cheat accomplice Tecwen Whittock, who apparently hatched his coughing masterplan while tuned into Batey back in the seventies. But it's Julian Clary's 1999 revival that tops the list here - the kind of idea that might have worked on paper but failed to gel on screen, because quiz shows never really work in inverted commas unless there's nothing at stake (cf Trick or Treat, Families at War). It's a one-joke concept anyway - Julian Clary presents Mr and Mrs! Isn't that funny! - and he was lumbered with a useless sidekick in Stacey 'Paul's wife' Young.
Mr & Mrs got shifted all over the scheduling shop, beginning as a regional production in 1964, when it appeared on TWW and Teledu Cymru (the latter already home to the Welsh-language original, Sion a Sian). It was some years before the rest of the country got to see it on any sort of regular basis - or at all, apart from the one episode which turned up on Rediffusion London as a bank holiday special on Good Friday, 1965. It made sporadic appearances elsewhere in the late sixties before storming the network on October 16th 1972, although rarely did it get properly networked at the same time. Best remembered as an afternoon custard cream accompanier, or a regular in ITV's anything goes 5.15 slot, Mr & Mrs did briefly appear in Saturday primetimes in the late seventies, presumably the only Border programme ever to do so. It was here it pulled in its highest ever audience, eleven million, in August (obviously) 1977. By the eighties, though, it was firmly back on weekday afternoons, before the final few series got stripped across the morning schedules.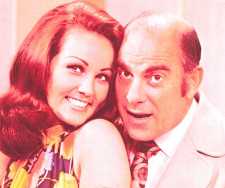 It's not widely known that the original host was Alan Taylor (erm, he's on the right)
We never understood how two ITV regions both seemed to be making the same show. From what we can gather, in the seventies both Border and HTV West took turns in producing the series, which surely must have confused the audience? Eventually, Batey won the day and it's the Border incarnation that most people recall, with its pink boudoir set, a tiny audience and the clacketty jackpot board. And then there was Sion a Sian, the orginal Welsh language version on HTV Cymru Wales and S4C, and the UK Living revival, hosted by Children's ITV mullet man Nino Firetto and made by HTV West. It's all a bit confusing.
The Clary-fronted revival went out on Friday evenings at ten o'clock, one of the first programmes to replace News at Ten, but stiffed big-time and was dropped after two episodes. This was apparently due to "experiments with the schedules" with the promise they would find another slot for it. When it returned three months later, it was shown... on Friday evenings at ten o'clock. We're not sure if they even showed all the episodes.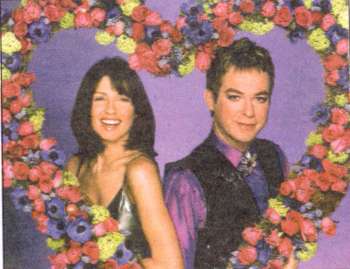 Stacey Young and Julian Clary
For a shoestring show made by a tinpot ITV company and usually flung out in the afternoons, Mr & Mrs was remarkably successful and hugely enduring, and a programme everyone remembers to this day. In retrospect, the amateurish feel was part of the charm, and it was truly a show you could watch over the French Fancies with your gran. It was a cracking format, and you could play along at home, sort of. And we love any quiz where someone has to sit in a soundproof booth.
Catchphrases
"Blue questions on the top, Bill you stay with me and Jean, you go into our soundproof booth",
"Oh dear, she said you always wear braces!"
"The jackpot's gone up to £500!"
"Be nice to each other!"
Inventor
Theme music
Mr & Mrs! Be nice to each other!
Mr & Mrs! We've gotta love one another!
Think of the future, and all you're hoping for.
Be nice to each other!
Mr & Mrs! Friends and lovers!
Mr & Mrs! Sharing each day for ever more!
Trivia
As revealed on an edition of Noel's House Party, couples managed to beat the system by always going for the answer that was alphabetically first.
It was the first British game show to feature a black hostess.
True story - Derek Batey trying to settle down to a young Irish couple before filming starts:
Batey: Did you have a good trip over from Ireland?
Irish contestant: Yes, thank you.
Batey: Did you arrive today or did you stay over last night?
Irish contestant: We came across yesterday.
Batey: Did you fly or take the ferry?
Irish contestant: I don't know - me mammy booked the tickets.
Merchandise
Web links
Pictures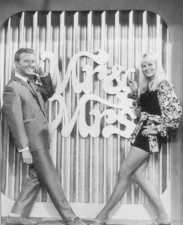 Picture 1
- Early photo of Derek Batey and assistant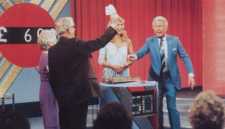 Picture 2
- A couple have got all six questions right and win the jackpot.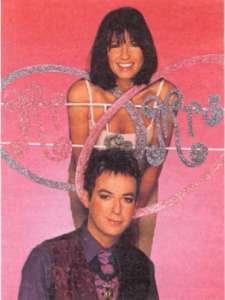 Picture 3
- Stacey and Julian.
Feedback