Mr and Mrs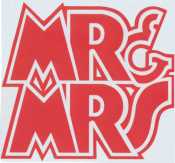 Host
Alan Taylor (original host)
1990s version (1): Nino Firetto
1990s version (2): Julian Clary
2005 unaired pilot: Richard Arnold
Co-hosts
Alan Taylor's assistant: Lynda Thomas
Derek Batey's assistants included: Helen McArthur, Penny Irving, Sue Cuff (Miss Great Britain 1975), Sarah Long (Miss England 1977)
1990s version (1): Katrina Buchanan
1990s version (2): Stacey Young
Broadcast
ATV/ITV (Border), 1964-88
1990s version (1): UK Living, mid 90s
1990s version (2): LWT for ITV, 1999
Synopsis
"Mr and Mrs - be nice to each other, Mr and Mrs - get to know one another, Mr and Mrs - get divorced more now than in any other time in history"
We think that's how the lyrics went anyway, and the show just got worse from there. Which is shocking because it ran for quite a long time (originally). This show is effectively the Anglicised version of Sion a Sian.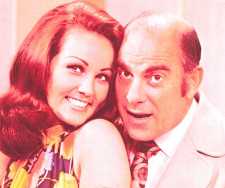 It's not widely known that the original host was Alan Taylor (erm, he's on the right)
Get a couple, get one of them to sit in a booth with headphones on whilst the other one answers three questions like "How often does your partner do the washing up?", bring partner back, confirm answers. Do again the other way round. If they get all six correct then they win the jackpot (which went up £10 or something for every not-perfectly-compatible couple). If not then give them some prizes for each correct answer they give. Simple and frankly tedious, but one can't dent that it's been a very long running format that caters to a safe audience.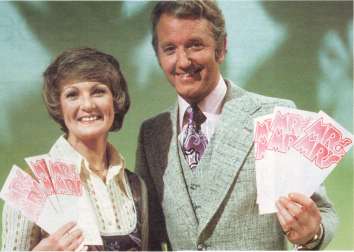 Helen McArthur(?) and Derek Batey
It was remade for cable called The New Mr and Mrs and was still frankly tedious. Correct answers were worth £20 housekeeping money whilst all six correct earned them a lawnmower or something. Excellently though, the headphone-donning person did get to sit in a gazebo which must have been nice for them.
Then... they did the ironic version with renowned raver Julian Clary. This was one of ITV's flagship shows to replace the now defunct News at Ten and to put it mildly it flopped. (Insert your own innuendo here.) It was withdrawn after only its second outing. (Insert your second innuendo here.)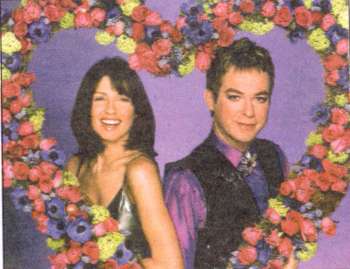 Stacey Young and Julian Clary
Same format but with somewhat racier questions. Six out of six got you a nice holiday (well, not you personally - the contestants). Anything less resulted in a prize from a collection including Mr and Mrs bathmats, toilet covers, teapots that sort of thing. We thought it was quite amusing, the rest of the British public did not, obviously. The highlight was definitely Julian mincing his way through the theme tune in his own inimitable style.
Inventor
Theme music
A music clip is available from the Vintage TV themes site.
Trivia
As revealed on an edition of Noel's House Party, couples managed to beat the system by always going for the answer that was alphabetically first.
It was the first British game show to feature a black hostess.
Merchandise
Web links
Pictures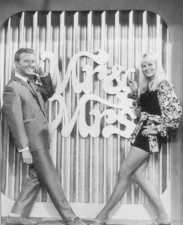 Picture 1
- Early photo of Derek Batey and assistant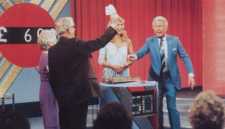 Picture 2
- A couple have got all six questions right and win the jackpot.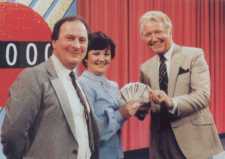 Picture 3
- A happy couple with Derek Batey.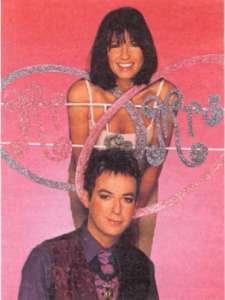 Picture 4
- Stacey and Julian.
Feedback