My Kitchen Rules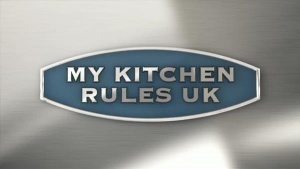 Host
Voiceover: Hugh Dennis (2014)
Mark Benton (2016-7)
Co-hosts
Judges:
Lorraine Pascale (2014)
Jason Atherton (2014)
Michael Caines (2016)
Prue Leith (2016)
Glynn Purnell (2017)
Rachel Allen (2017)
Broadcast
Boundless for Sky Living, 23 January to 27 March 2014 (10 episodes in 1 series)
7Wonder Productions for Channel 4, 3 October 2016 to 17 November 2017 (70 episodes in 2 series)
Synopsis
Make a restaurant in your own front room. Then take more difficult challenges to determine a winner.
Split into regions, four couples host a dinner party in their own front room. So far, so Come Dine with Me. They're joined by professional judges, and set strict time limits for each course to appear.
The judges both score each course (starter, main, dessert) out of 10, and the fellow couples score the night as a whole out of 10. The week's highest score wins, right? Wrong.
The scores in your living room are just the starter to a number of rounds at "kitchen HQ". Various elimination tests determine one eventual champion.
Inventor
Seven Network (Operations) Limited
Title music
Hamlin & Jolliffe (2014)
John Robertson and Andy Jones (2016-)
Trivia
A huge success in Australia, My Kitchen Rules is shown on Challenge (and previously Sky Living) as an imported show. Living made a domestic edition in 2014. It wasn't renewed - perhaps because Sky changed its strategy and only imported shows for Living.
Channel 4 acquired My Kitchen Rules for a six-week commission. It went out in the 5pm slot occupied by Come Dine with Me - and opposite Pointless and The Chase. The second series went out an hour earlier, at 4pm, shifting to lunchtime for the last few weeks.
Sky's sponsorship office sold the show to sponsors:
"Amateur cooking couples with a real flair for cooking will first have to compete in their homes to see who can whip up the most mouth-watering dishes. The judges will then put couples through a series of more complicated challenges catering for the public before facing elimination 'cook-offs' in the studio."
Web links
See also
Weaver's Week review (2016)
Feedback