New Faces
---
Revision as of 12:19, 23 March 2006
Host
Broadcast
ATV for ITV, 7th July 1973 to 2nd April 1978 (158 episodes)
Central for ITV, 1986-88
Synopsis
This came in two incarnations.
The first, hosted by That's My Dog's Derek Hobson saw a variety of turns being judged by a panel of talent spotters, usually a combination of celebrities and Tony Hatch. They were marked out of 100 in various criteria with the highest scores moving on to semi-finals and finals.
The remake hosted by Marti Caine was set in a large theatre and our acts were commented upon by three judges sitting high up in a box, of which Nina Myscow seems to be remembered for being the nastiest towards the acts. The audience decided who won here, as a gigantic lightboard known as Spaghetti Junction lit up to a varying degree as the audience pushed buttons. The final was live and decided on a home vote, with Marti going round all the ITV regions and the regions giving points on an Eurovision Song Contest style basis. Excellent!
Key moments
Marti Caine's "Press your buttons.... NOW!" reaching 3.6 on the Richter Scale.
Catchphrases
To be completed
Theme music
You're a Star, Superstar by Carl Wayne from The Move.
Trivia
Acts that were discovered on the show included Victoria Wood, Malandra Burrows, Showaddywaddy, Les Dennis, Lenny Henry, Jim Davidson, Roy Walker, and Marti Caine (who later returned to the show as host). Joe Pasquale was discovered on the late 80s revival.
Web links
Pictures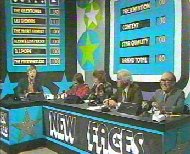 Picture 1
Feedback