New Faces
Host
Derek Hobson (original version)
Marti Caine (1980s revival)
Co-hosts
Regular judges included: Ted Ray, Arthur Askey, Mickie Most, Clifford Davis, Tony Hatch (original version); Nina Myskow, Bonnie Langford (1986-8 remake)
Broadcast
ATV for ITV, 29 September 1973 to 2 April 1978 (158 episodes)
Central for ITV, 19 September 1986 to 3 December 1988
Synopsis
Popular talent show, but unlike the amateur Opportunity Knocks, this one was for smalltime professional acts who already had their Equity cards. It came in two incarnations.
The first, hosted by That's My Dog's Derek Hobson saw a variety of turns being judged by a panel of talent spotters, usually a combination of celebrities and Tony Hatch, who is generally reckoned to have been the original plain-speaking "nasty judge" - nowadays every show has one, but he was arguably the first. (Though not the only one on this show: Mickie Most was also noted for his harsh comments.) The acts were marked out of 100 in various criteria with the highest scores moving on to semi-finals and finals.
The remake hosted by Marti Caine was set in a large theatre (for the finals at least, it was the Birmingham Hippodrome) and our acts were commented upon by three judges sitting high up in a box, of which Nina Myskow seems to be remembered for being the nastiest towards the acts. The audience decided who won here, as a gigantic lightboard known as Spaghetti Junction lit up to a varying degree as the audience pushed buttons. The final was live and decided on a home vote, with Marti going round all the ITV regions and the regions giving points on an Eurovision Song Contest style basis. Excellent!
Key moments
Marti Caine's "Press your buttons.... NOW!" reaching 3.6 on the Richter Scale.
Catchphrases
To be completed
Theme music
You're a Star, Superstar by Carl Wayne from The Move.
Trivia
Acts that were discovered on the show included Victoria Wood, Malandra Burrows (the youngest ever winner), Showaddywaddy, Les Dennis, Lenny Henry, Jim Davidson, Roy Walker, Gary Wilmot, Patti Boulaye and Marti Caine (who later returned to the show as host). The Chuckle Brothers appeared in 1974, but were still sufficiently obscure to be "discovered" for a second time on The Freddie Starr Showcase nine years later. Joe Pasquale was discovered on the late 80s revival.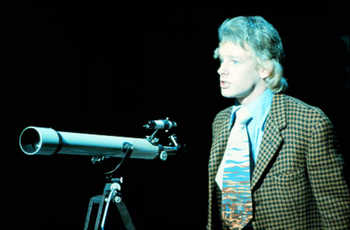 Patrick Moore performing an excellent impression of Les Dennis
Regional results presenters for the grand finals on the 80s version included:
Paul Lavers (announcer for the Anglia region)
Richard Whiteley (representing YTV, of course)
Fern Britton (co-presenter alongside Fred Dinenage on the nightly news programme Coast To Coast for TVS)
Peter Lewis (chief announcer and newsreader at LWT)
Web links
Pictures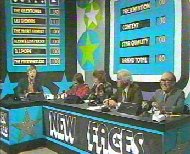 A 1970s panel
Feedback