Nicholas Parsons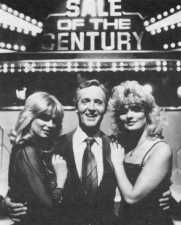 Biography
Parsons has acted in comedy roles, at one stage being straight man to Arthur Haynes and Benny Hill. He is best known for his 14-year stint as host of Norwich-based quiz Sale of the Century.
On radio, he presented public speaking parlour game Just a Minute since time began (or since 1967 to be exact). The format was converted to a BBC daytime show.
He passed away on January 28th 2020 after a short illness. He was 96.
Trivia
He acted as the narrator in the stage version of the Rocky Horror Show.
Parsons went to the same school as Margaret Thatcher - Grantham & Kesteven High School for Girls (make your own joke up). His father was a GP in the area, though it is doubtful whether Thatcher was one of his patients.
He served as Rector of the University of St Andrews from 1988 to 1991, and was succeeded in the post by Nicky Campbell.
He was the original choice to play the Gamesmaster (q.v.)
As a child, he suffered from dyslexia, stuttering and migraines.
He was resident comedian at the Windmill Theatre for six months.
At one point he held the Guinness world record for the longest after-dinner speech, only for the previous record-holder, Gyles Brandreth, to later win it back.
He was a keen waterskier and at one point his daughter suggested he run a ski school in Spain. However, Parsons enjoyed British life too much.
Appropriately for the host of Just a Minute, he is also a keen horologist and is a member of the of the British Watch and Clock Makers' Guild.
With the summer 2010 series of Just a Minute, Parsons became the oldest person ever to host a British game show, overtaking the late Humphrey Lyttelton.
Books / Tapes
The Straight Man (autobiography) (hardback) | (tape)
Contact
c/o Jean Diamond, Diamond Management, 31 Percy Street, W1T 2DA
Web links
See also
Weaver's Week appreciation in two parts.
Feedback