Paul Hendy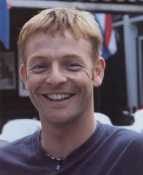 Biography
One of TV's nearly men, it's probably fair to say, whose game show career never really hit top gear for no apparent reason. He was the affable host of Wheel of Fortune, Don't Try This at Home! and what Paul is honest to describe as "the 'cult classic' (in other words it was rubbish but students liked it) Stash".
He currently tours the country with his own act, The Big Quiz.
Trivia
Wrote a book in 2004 called Diary of a C-List Celeb which, it seems, has received rave reviews on Amazon.co.uk. With quotes such as "It's bloody genius, very funny and leg-crossingly embarrassing - Davina McCall" and "I don't know what Simon Peters is worried about, at least he's got panto - John Leslie", how could you refuse?
Books/Tapes
Contact
c/o Jo Carlton, Talent4Media, Studio LG16, Shepherds Building Central, Charecroft Way, London W14 0EH
Web links
Feedback