Pete Waterman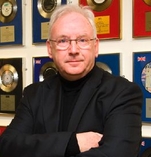 Biography
Best known (as 33.333% of Stock, Aitken and Waterman) for his work at The Hit Factory, launching the singing career of many an Australian soap star. Main other claim to TV fame: being the Hit Man in the late-nite ITV post-pub nightclub programme The Hit Man and Her (the Her being Michaela Strachan).
Not to be confused with Bad Lads Army voiceover Dennis Waterman.
Trivia
Pete Waterman is an avid trainspotter.
He composed the music for the ill-fated pilot of Who Wants to be a Millionaire? before Claudia "And Guildenstern" Rosencrantz at ITV rejected it and the Strachan clan got involved.
Books / Tapes
I Wish I Was Me (autobiography)
The Hit Factory: Pete Waterman's Greatest Hits
Contact
PWL, 222-224 Borough High Street, London SE1 1JX
Web links
Feedback