Play Your Cards Right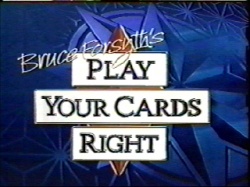 Host
Bruce Forsyth (1980-7, 1994-9, 2002-3)
Brian Conley (non-broadcast pilot)
Vernon Kay (2007 special)
Alan Carr (2020-21 specials)
Co-hosts
Voiceover: Robin Houston (1980-7)
Hostesses:
1980: Natalie Shaw (-'83), Denise "Denni" Kemp (-'83), Jo Thomas, Yvonne Younger, Zena Clifton
1981: Lesley Anderson; Gillian Elvins; John Melainey (-'83, prize guy for driving the car?)
1982-3: Camilla Blair, Gillian Duxbury
1983-4: Alison Bell, Carol Dean, Brenda Haldane, Wendy Marler, Robin Martyne
1985-7: Denni Kemp, Natalie van de Braam, Alison Bell, Carol Dean, John Melainey
1994-6: Vicki Brattle, Sophie Allisstone
1997: Carley Carter, Debbie Flett
1998: Sharon Amos, Sheryl Deane
1999: Charlie Maloney, Maxine Restall
2002-3: Annalise Braakensiek, Vicki-Lee Walberg
Broadcast
LWT in association with Talbot Television and Goodson-Todman Productions for ITV, 1 February 1980 to 22 November 1987 (139 episodes in 9 series + 6 specials)
LWT and Fremantle (UK) Productions (formerly Talbot Television) for ITV, 18 March 1994 to 1 May 1998 (81 episodes in 5 series)
LWT and Grundy for ITV, 22 January to 4 June 1999 (16 episodes in 1 series)
Thames for ITV1, 7 September 2002 to 20 June 2003 (12 episodes in 1 series + 4 unaired)
Granada and Thames for ITV1, 15 October 2005 (Gameshow Marathon one-off)
ITV Productions and TalkbackThames for ITV1, 26 May 2007 (Gameshow Marathon one-off)
Talkback for ITV, 30 May and 27 June 2020, 3 April 2021 (Epic Gameshow episodes)
Synopsis
"HIGHER HIGHER! LOWER LOWER! FREEZE!"
"You know, we really should get a better aerial for this telly."
Bruce Forsyth has a habit of returning to shows he ditched years before (q.v. The Generation Game) and similarly he's had three different 'goes' at this format. This is the US show Card Sharks Britishised with that ol' Brucie magic. Ooh, and you're so much better than last week's audience!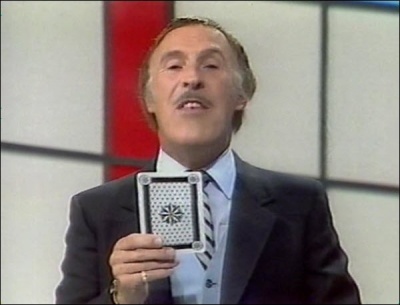 Bruce and his card that does jack.
Two married couples attempt to survive survey questions, probability and Brucie's awful rhyming couplets ("Don't touch the pack... we'll be right back!" etc.) in order to win a car and/or a ton of cash, depending on the era.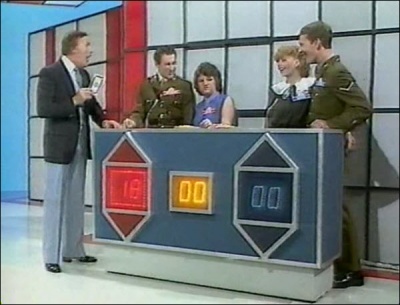 The actual answer appears on the central LED display.
So then, the idea of the game is for the two couples to get across across their respective board of five cards by predicting whether the next card will be higher or lower than the preceding one. To get control of the board, they have to guess the answer to a question.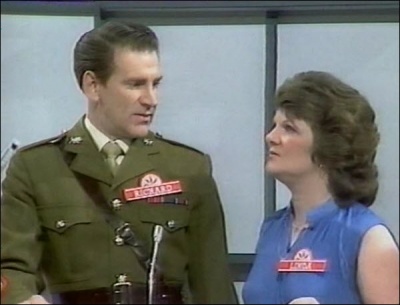 Should we say 69?
In these questions, 100 people of a profession were asked an opinion question, something like "We asked 100 strippers... do you think women would pay to see Bruce Forsyth strip? How many people said yes?" One team would then argue as to whether they thought the answer was 68 or 69 and finally come up with a figure. The other team then try and guess if the actual answer was higher or lower then the prediction. Then we're told what the answer is. If the second team are right they win control but if wrong the first team do. And if the first team are bang on then they win some champagne or something.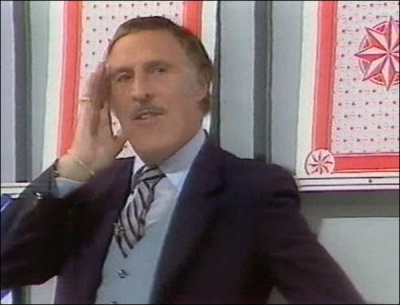 There goes my career.
So it's over to the board where the Dolly Dealers hang out. Each couple has a board of five cards and the first one is revealed. If They can either change the card (handy!) or they can guess HIGHER! or LOWER! (appropriate hand movements are optional). If they are right then they move on to the next card to guess higher or lower for subsequent cards, but out goes the change card option and in comes FREEZE, where the cards upturned are frozen and they are safe. Safe from what? Well, if a team guess wrong then the 'EUUGGHH' music plays and they go back to the last frozen correct card and the other team get a go. Luck being the fickle thing that it is, you also lose out if the next card happens to be same. "You get nothing for a pair... NOT IN THIS GAME!"
"Lower... nope, it was higher."
The first team to get across all five cards wins the game and a Brucie Bonus which will be an alright prize. The first to two games is the winner, unless it gets to one all in which case the final round is a sudden death round with only three cards.
Prize Cards
In the original series, when the ITC somewhat frowned on shows giving away thousands of pounds in cash, there was a kind of Green Shield Stamps-style conversion system. The contestants began on 200 points, but needed to play the end game to get to 4000 points for the car. If they ended up with a lower amount, they'd get a not-as-good consolation prize - how good that prize was depended on the number of points, similar to Blankety Blank. Hence the catchphrase on the show: "What do points make? Prizes!"
In the revived version, it's still HIGHER HIGHER! LOWER LOWER! but with the added excitement of betting cash on the outcome of the next card. This time, if they have £4000 by the end (yes it's that anti-Marxist streak again), they can play for this beautiful car... WOWWEE!
The rules go that they are given 200 (pounds or points) to start with. Bruce asks them a so-simple-it-hurts question which gains (or, for very thick contestants, loses) them 50 pounds/points. From then on they can bet as much as they like over a series of six cards. After the third card they get a bonus 200. They can also change the card at this point and after the final card.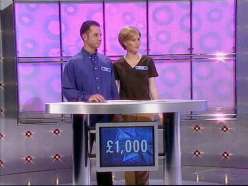 Contestants playing the cash cards
In the cash version, if they don't have the necessary £4,000 in the bank by the sixth card, they can go double or bust on the final card. But, as Bruce points out, if they lose they really do go home penniless (but big-hearted Bruce buys them a drink after the show).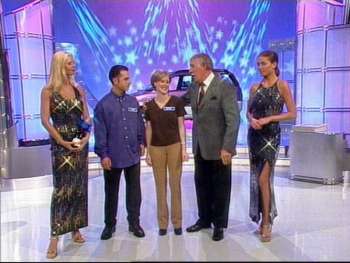 Bruce (second from right) consoles the contestants in the second version of the programme.
The 2002 series had a few rule changes. Firstly, there were 4 couples, each of whom would select a card at random from a complete suit of hearts, with the 2 highest couples playing the game. Secondly, in the final game, Bruce would ask a ridiculously hard question, and after a few seconds would say "Aren't you glad you don't have to answer questions like that?", and promptly increase their money. Also, if a pair was revealed during the final round, no cash was lost.
A brief revival in Epic Gameshow featured a new eliminator round. Both couples work along a shared row of cards, control passes to you when the other couple gets a card wrong. There's a survey question to decide initial control, and only the winners of the question can play a change card at their choice. Whoever has control after the last card was turned over wins through to the final.
Rather than cash cards, Epic Gameshow played for cash rows, risking more money as you go up the triangle - as three wrong predictions loses the lot. It sounds more complex than it is.
At heart, Play Your Cards Right is a rather simple game (and one that got good ratings for what it was - natch) which occasionally throws up some surprising results thanks to the luck aspect.
It's a classic gameshow that'll be remembered for it's astounding number of catchphrases and some classic squabbling couples, if nothing else.
Key moments
The out-take (below) where Bruce tried to lead the contestants to their new car, only to discover that the car door was locked...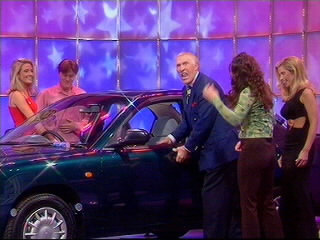 "Who's got the keys?"
During the 2002 revival, a contestant surprised Bruce by correctly answering the very difficult question that preceded the final round. He was called 'a smart arse' and was jokingly accused by Bruce of 'completely ruining the show'!
Catchphrases
"What a lovely audience! You're so much better than last week's." - the joke being that it was the same audience with whom Brucie had recorded a show not one hour earlier.
"Higher, lower, higher, lower..." etc.
"You get nothing for a pair - not in this game."
"It could still be a good night if you play your cards right."
"I'm the leader of the pack,
which makes me such a lucky Jack,
but here they are, they're so appealing,
come on dollies do your dealing."
"The best things in life all come in pairs - just look at my two croupiers!"
"Wow!" (or "Woweee!" in later series - Bruce changed it when he got bored of the audience going Wow!)
"Did you see them cut the cards?"
"It's a Brucie bonus!"
"Don't touch the pack, we'll be right back!" For the Ant and Dec version, this was changed to: "Don't touch the Dec(k), back in a sec!"
"What do points make?" [Audience: "PRIZES!"]. In the later series: "What do pounds make?" [Audience: "RICH PEOPLE!"]
"Hang loose - we'll be back in a deuce!"
Whenever a question relating to male strippers came up, Bruce would always say "Well, when I was a chippendale..." and look offended when the audience laughed. Every! Single! Time!
Inventor
Based on the Card Sharks format from the USA, created by Chester Feldman.
Theme music
Composed by Alyn Ainsworth.

Original PYCR opening titles
Arranged by Laurie Holloway (for 1990s revival).
Trivia
The first series in 1980 actually used single players instead of couples.
Comedian Brian Conley recorded a pilot episode of the show in 1994, before they decided to bring back Bruce.
One episode from 1994 is no longer broadcast on Challenge because it contains what they deem "an inappropriate question which we cannot play nowadays".
Merchandise
Play Your Cards Right travel game
Web links
Pictures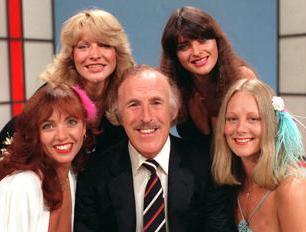 Bruce, as he was first time around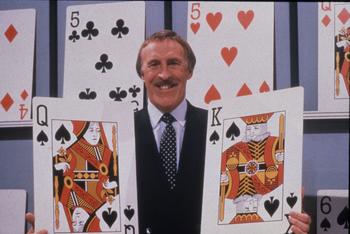 A lucky Jack, Queen and King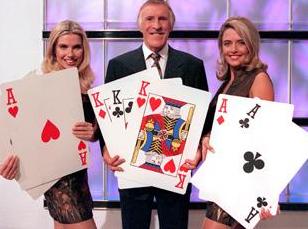 Bruce and his "dolly dealers"
Feedback