Race Across the World
(I ''really'' don't like leaving it as a year.)

Line 8:
Line 8:

== Broadcast ==

== Broadcast ==

-

Studio Lambert for BBC Two, 28 February 2019 to present (but see [[#Trivia|Trivia]])

+

Studio Lambert for BBC Two, 28 February 2019 to ()

+

 

+

</div>

</div>
---
Revision as of 15:07, 29 September 2022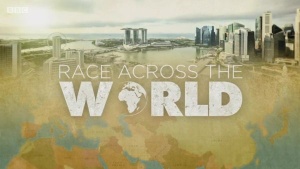 Host
John Hannah (voiceover)
Broadcast
Studio Lambert for BBC Two, 28 February 2019 to 3 May 2020 (15 episodes in 2 series)
Studio Lambert for BBC One, 2022
Synopsis
Couples are challenged to get from one side of the world to another (from London to Singapore in the first series, and from Mexico to Argentina in the second). They're given the air fare in cash.
Easy, just go to the airport and buy a ticket, right? Wrong - they're not allowed to fly. Overland transport only. (But see Trivia.)
Er, ring up someone and ask for a lift? Nada - there are no mobile phones.
OK, whack it all on the credit card, right? Nope - they're not allowed to use any money other than cash. The teams are allowed to work, and the producers arrange some possible jobs along the route.
First to the other side wins a cash prize of £20,000.
Race Across the World settled into a distinctive style. There was a lot about the mechanics of travel, about navigating connections and crossing town, about the trade-off between fast and comfortable. Establishing shots and big captions make it clear where we are, and John Hannah's voiceover tells us about the place.
The show was a mixture of travelogue, relationship diary, and economic management. It was all of these things and none - not a pure travelogue, not a pure people show, and not really an egonomics study. It proved to be a winning formula, viewing figures increased by 50% during the first series.
Champions
2019: Tony and Elaine
2020: Emon & Jamiul
Title music
Michael Burns, credited for "Original Music".
Trivia
The series had a 5-minute preview at 10.25 on Thursday evening. Episodes went out at 9pm on Sunday evenings from 3 March, shifting to 8pm from 31 March as the series threatened to dent BBC1's high-profile drama Line of Duty.
The no-fly rule was relaxed for the second series due to civil unrest in Ecuador. Although, by the time the series aired, international travel had bigger problems, and no new episodes have aired since the fifteenth episode on 3 May 2020.
Web links
See also
Feedback