Ready Steady Cook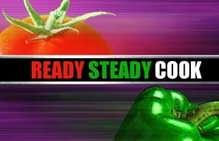 Host
Fern Britton (1994-2000)
Ainsley Harriott (2000-10)
Broadcast
Bazal/Endemol UK/Cheetah Television for BBC2, 24 October 1994 to 2 February 2010 (approx. 2000+ episodes in 21 series)
Celebrity Ready Steady Cook Bazal for BBC1, 11 July 1997 to 3 January 2003 (102 episodes)
Synopsis
Is there anybody who doesn't like Ready Steady Cook? It has a huge following amongst students (predictably), housewives, kids and even Americans (who had their own version in the form of Ready Set Cook with, erm, Sissy Biggers - don't laugh, now).
One of the various RSC chefs, Kevin Woodford
So why is it so successful? First of all, it's completely unpretentious and doesn't try to be. The idea is incredibly simple: Two chefs and members of the audience attempt to make a meal within 20 minutes using ingredients "brought in" by the audience members (to a value of £5) and anything from the larder (just about anything a normal person would have). And at the end, the audience would vote as to who they liked best. And that's it. And it should be rubbish.
Yet it isn't.
Ainsley Harriott with Kate Winslet. Yes, really.
The fact is, the show is entertaining to watch. You don't have to concentrate a massive amount of brainpower towards it and you don't have to be able to cook, the premise of the show is that anybody can cook something good in a short space of time. And one of the reason's why it works is the laid back banter between host, chefs and contestants and there is a nice mixture of food and anecdote. The chefs usually have a big personality (and know what they're on about) and Fern Britton (or latterly, Ainsley Harriot) keeps the show rolling along.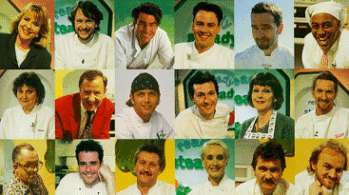 The I-Spy guide to the RSC guest chefs - how many can you name?
And that's it. It isn't going to change the world, it's certainly not going to worry other game shows too much, but it's certainly worth a watch if there is nothing else on.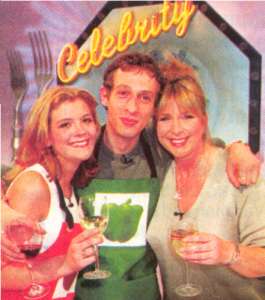 Original host Fern Britton (right) with two actors from Coronation Street, contestants on Celebrity Ready Steady Cook.
Over its long life, Ready Steady Cook has incorporated the odd gimmick to keep things fresh, and occasionally played under different rules on certain episodes. For example, in the "Lucky Dip" rules each contestant brings in ten items, five of which are picked out of the bag at random by the chef. They are then prepared, but with 10 minutes to go another ingredient is pulled at random out of the bag which the chef then has to incorporate, hoping it isn't a rack of lamb or something equally nasty. Other than that, the rules are as normal. This would be original, had it not been for Mixing It.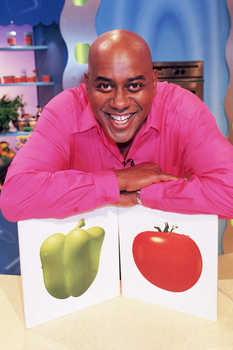 New host, Ainsley Harriott with audience voting cards.
In the later years, such gimmicks fell out of favour and the show settled down to the standard format, with an extra "quickie bag" section at the end in which another bag of ingredients was produced from somewhere (usually from someone in the audience who is involved with making or promoting food in a "cottage industry" fashion) and the chefs had ten minutes to prepare a spread of dishes. In 2007, the show was given a very modern new look which was a bit of a shock at first but didn't seem to have harmed it (or helped it particularly, either). Though we still think it was a mistake to drop the show's trademark "red tomato"/"green pepper" business. It didn't come as too much of a surprise when the programme was axed in 2010, having had a good run but being battered in the ratings by Deal or No Deal - ironically, another Endemol show.
Key moments
The time when a chef's piping bag went wrong and the cream went all over Brian Turner and Fern: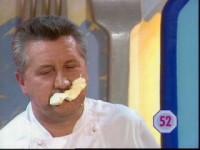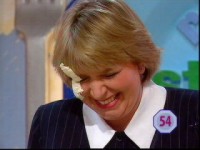 Luckily, the cream wasn't piping hot (ha, ha)
Catchphrases
"Will it be green peppers or red tomatoes?"
Stop cooking!
Theme music
All versions of the theme composed by Ken Bolam
Trivia
The contestants don't bring the food with them - it is bought for them by the production staff (to stop Marge from Solihull's salmon defrosting on the train down to the studio). However, the researchers do ask the contestants what sort of meal they'd like to cook with the chefs, and provide similar ingredients accordingly.
After the primetime celebrity version ended, the daytime version mixed up episodes with "celebrity" and "public" contestants until the 2007 revamp, since when it was celebs all the time. A bit disappointing for fans who wanted to be on the show, but then there was never much the contestants could do to influence the outcome of the competition anyway.
The voting element was actually suggested by a member of a focus group brought in by Bazal to give feedback on the pilot show. Originally the programme was to have ended with an audience competition such as "guess the weight of the marrow" or "how many pickled onions in the jar?". So focus groups do have their uses after all.
The format was sold to 25 countries. The French version dropped the competition element altogether and was just an ordinary cookery show with a single chef. In Peter Bazalgette's words, "for three or four years they paid us a fee to not make Ready Steady Cook!"
Merchandise
A board game for kids was available.
Ready Steady Cook 10-Minute Cookbook (2006)
Ready Steady Cook For Kids book (2006)
by Antony Worrall Thompson, Brian Turner

Ready Steady Cook 2
by Patrick Anthony, Richard Cawley
by Kevin Woodford, Lesley Waters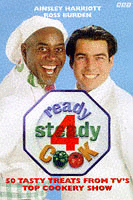 Ready Steady Cook 4
by Ainsley Harriott, Ross Burden

The Big "Ready Steady Cook" Book
by Patrick Anthony, Richard Cawley, Fern Britton

Ready Steady Cook: Fast Meals for Two
by Fern Britton
Pictures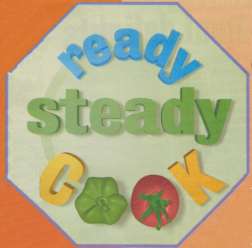 The original RSC logo
Feedback