Robert Robinson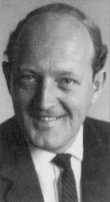 Biography
Robinson was a film and television critic for newspapers before appearing on screen as the presenter of a film review programme, Picture Parade. In 1962 he became the gossip columnist of The Sunday Times, and continued to work in television as the host of BBC viewer feedback programme Points of View. He was also once a presenter on Radio 4's 'Today' programme.
He is particularly noted for accumulating as many as six concurrent presenting roles on TV and radio panel games, quizzes and talk shows. On Radio 4, he presented Stop the Week and Brain of Britain. He has the unique distinction in British broadcasting of having hosted three different game shows (Ask the Family, Brain of Britain and Call My Bluff) for more than 15 years each.
Trivia
He is the father of the actress Lucy Robinson, who appeared as the formidable Mayoress in several editions of the BBC's mid-90's comedy series, 'The Thin Blue Line', which starred Rowan Atkinson.
He wrote two novels: Landscape with Dead Dons (1956) and The Conspiracy (1968)
He chaired the infamous 1965 discussion on BBC-3 during which Ken Tynan became the first person to say the F-word on British television.
Web links
Feedback