Robot Wars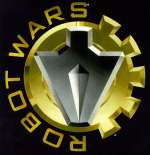 Host
Jeremy Clarkson (1998)
Craig Charles (1998-2004)
Dara O'Briain (2016-)
Co-hosts
Philippa Forrester (1998-2000, 2002-3)
Julia Reed (2000-1)
Jayne Middlemiss (2003-4)
Angela Scanlon (2016-)
Commentator: Jonathan Pearce
Broadcast
TV21 for BBC Two, 20 February 1998 to 23 February 2001 (59 episodes in 6 series + 9 specials)
Mentorn for BBC Choice, 6 May 2002 to 7 February 2003 (30 episodes in 2 series + 5 specials)
as Robot Wars Extreme: 8 October 2001 to 31 January 2003 (30 episodes in 2 series)
(but see Trivia below)
Mentorn for five, 2 November 2003 to 28 March 2004 (19 episodes in 1 series + 3 specials)
Mentorn Scotland in association with SJP Media for BBC Two, 24 July 2016 to present
Synopsis
In each heat, six robots knock several different colours of engine oil out of each other in order to find a winner to go forward to the finals.
To do this, two robots are eliminated in the first two rounds and the other three are knocked out individually, leaving one left who is the winner.
Gauntlet
Round One sees the robots navigating a maze in the fastest time or - if they didn't complete the course - the furthest distance. There was a three-way choice of routes. Typically, one route would test speed, one manouverability and the others would lead to a rumble with one of the House Robots. Who they, I hear you ask? Well, they included:
Dead Metal - perhaps the weakest, this was a giant scorpion. With pneumatic pincers!
Shunt - literally, a robot that shunts things. And a weedy axe.
Matilda - the one with personality, a robot dinosaur with attitude and a chain saw tail.
Sergeant Bash - had a flamethrower, handy for opponents of the cloth-covered variety.
Sir Killalot - he meant business, able to pick up robots in one hand and then crush them with his pincers using the other.
The Sentinel - a robot that sucked up power whenever it looked at you, although sadly it wasn't actually that tough because it was just a giant pneumatic arm which would generally just push the robot out of the way. Every single time.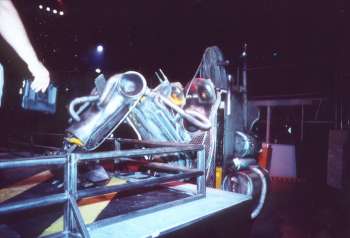 A stagehand prepares the enormous Sentinel for action.
The idea of the Gauntlet was basically to get as far down the 15 metre course as possible, intact, within the time allowed, while avoiding the House Robots (which were controlled by TV staff). Of the six robots, the one that travelled the least distance was out. On at least one occasion, a robot struggled even to navigate the starting turntable and managed to actually post a negative score for travelling backwards!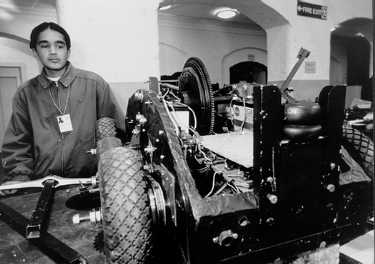 Last minute adjustments to a contending robot.
In between rounds we'd visit the pits to see how the teams were feeling and getting on. Whilst Jeremy or Craig would be larging it out the front, these bits were done with the lovely Philippa.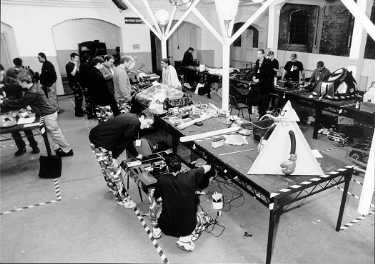 The behind the scenes workshop where contestants repair their robots for battle.
Trial
Mercifully, quite a lot of thought went into this round, for unlike the rest of the show, it was usually different every week and therefore provided a lot of the interest. Each different task would aim to test out a particular skill of a robot, however it was pure luck as to what department would be tested.
Sometimes it would be speed and manouverbility, such as racing round a track, through a maze, robot football or the legendary Pinball game (which started life as a trial and was used on later series as a mini-competition to break up the action). Other weeks it would be a test of pure power such as robot Sumo. It was a different game every week which livened proceedings no end.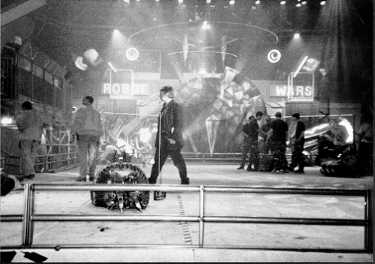 Stage crew prepare the area for the next round.
Arena
Now it was time to rumble. The four left pair up for a knock out contest. The winner of each bout went through to the final, and the winner of the programme final went through to the Grand Final at the end of the series.
It's these fights that make the main core of the show. Using the weapons of the robot, they would have to outclass the other robot and beat them up. However, it wouldn't normally come down to that. Around the playfield were the House Robots and if a robot went into the Perimeter Patrol Zone (or "PPZ") all hell would break loose because the House Robots would start getting involved. This is always a good bit because the House Robots actually do some damage as opposed to the robots that the players themselves build, which generally don't actually do much damage at all apart from wave around a spike in a mincing fashion.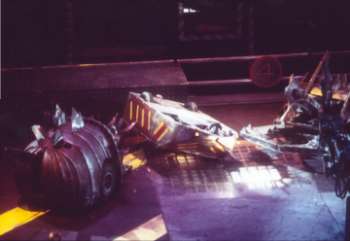 House robots Matilda (left) and Dead Metal (right) overturn a contestant's robot (centre).
And that's what lets the programme down a bit, the fact that the majority of the damage isn't done by the players' robots themselves, it's down to the House Robots.
If the bout isn't finished within a couple of minutes it stops and the judges decide the outcome on the ill-defined criteria of "style, control, damage and aggression". Boring! What's more, this really affected the Grand Final of the first series where six robots fought it out until one was left standing. Or at least it should have been like that. What actually happened was that two were left when time ran out. WHAT! It's the Grand Final of a war! It really should have gone down to the wire but didn't and ruined it. Luckily they rectified it for Series Two.
This show regularly pulled in BBC2s highest ratings and rightly so because it's original and good, even if it doesn't have the bite of American Robot Wars Championships. Purists would argue that the original series with Smugmeister-in-Chief Jeremy Clarkson hosting was wittier than the loud-n-proud approach of Craig Charles, but the ratings didn't suffer for it.
But then came series three...
1999 saw a change in the proceedings. The show was increased to 45 minutes and the show was also shown not once, not twice, not even four times but THREE times over the space of three days. Twice on the same evening - that's some going! The format changed too, out go the qualifying rounds and in comes a complete knockout tourney beginning with eight robots and ending with just one. Also, once each episode a robot would play Pinball or Football in an ongoing tournament throughout the series.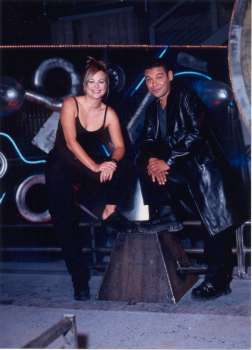 Hosts Philippa Forrester and Craig Charles.
The new style works well in that we concentrate on the hacking and slashing of the robots, but it still doesn't hide the fact that present regulations mean the robots (save for the excellent house ones) can't do anything very exciting other than a) flip someone over or b) turn themselves the right way up again. Instead, the usual rigmarole of pushing the other robot into the pit or into the house robots still applies. We want guns and good saws and dynamite and stuff! Still, everything looked better this year and the rules were changed to allow robots to wield fluffy cushions. Probably.
In the year 2000
Yup, another year, another series and yet another repeat viewing for those of us that can't catch it at it's normal Friday evening timeslot. This time it was on BBC Choice, so no one watched it anyway but there you go. In fact, the popularity being at its peak by this time, we wouldn't have been too surprised if one of the seven channels Greg Dyke was planning for the BBC's future was 'BBC Robot Wars,' with four showings of the show in the space of three days it was certainly something to think about, wasn't it?
What else was new this year? In Round One, three robots go head to head in a pitched battle with the battle finishing as soon as one of the robots is immobilised. Round Two will draw the four remaining robots against each other, facing off in twos and the final is, well, the final.
New robot this year too, and who's the bastard in the black? Why, it is none other than Refbot. He doesn't fight, he's just the Ref and he provides some of the pictures. Which is kind of nice.
Because Flip Forrester is preggers, we get virtual unknown (previous experience - .tv) Julia Reed to stand in.
In-between rounds the Pinball Warrior challenge returns with our Pinball Wizards using their supple wrists to control their robots to crash into some targets. There's also a Random Robot Sumo Fight where various robots try and stay in the ring with Shunt in an event called Sumo Basho (quite witty, actually, as a Basho is a bout in Sumo wrestling as well as being a play on a synonym for fighting).
Revival
Somewhat bizarrely, Channel 5 poached the programme just as it was running out of steam from BBC 2, and it promptly disappeared into the crusher without much of a fuss.
Oh, and you can read a book. You can ride a horse.
But Craig Charles still insisted on doing crap poetry,
At the end of Robot Wars.
Goodnight.
Key moments
The gabbling commentary, by Channel 5 football's Jonathan Pearce, really adds a sense of occasion to the event.
Catchphrases
"Let the wars begin!" (replaced by "Let battle commence")
"Roboteers, stand by!"
"3...2...1...Activate!"
"Cease!" (which replaced the less catchy "Stop, and deactivate robots")
Silly phrases to introduce Craig, such as: "Ladies and Gentlemen, please welcome the man who thought that a kamikaze was a Japanese toilet, Craig Charles!", or "...the man who thought that a Magnum 44 was the world's most powerful ice cream, Craig Charles!"
Inventor
Based on a US competition.
Trivia
Though always commissioned from the BBC2 budget, two series of Robot Wars Extreme were first shown on the digital BBC Choice channel, repeated some months later on the analogue service. It was a common tactic to promote the concept of digital television to a sceptical public, and two other regular series were also previewed on Choice.
Towards the end of the second Extreme series' BBC Two repeat, the Robot Wars franchise announced its move across to five. Not wanting to promote a rival, the BBC pulled its repeats. Those who hadn't caught the premiere on BBC Choice in early 2003 had to wait two whole years to see them, when the Sci-Fi Channel bought and broadcast the series in 2005.
For the record, and to help avoid confusion, the BBC Choice and BBC2 transmission dates were:
For Robot Wars:

First World Championship special: BBC Choice: 16 November 2001. BBC2: 28 December 2001.
Second World Championship special: BBC Choice: 14 December 2001. BBC2: 30 December 2001.
The Forces special: BBC Choice: 21 December 2001. BBC2: 3 January 2002.
Series 5: BBC Choice: 6-27 May 2002. BBC2: 24 May to 1 November 2002.
Series 6: BBC Choice: 16 September to 4 October 2002. BBC2: 8 November 2002 to 7 March 2003.
UK vs. Germany special: BBC Choice: 10 January 2003. BBC2: 4 April 2003.
European Championship special: 7 February 2003. BBC2: Unaired.
For Robot Wars Extreme:

Series 1: BBC Choice: 8-26 October 2001. BBC2: 26 October to 21 December 2001 and 4 January to 8 February 2002.
Series 2: BBC Choice: 13 to 31 January 2003. BBC2: 9 May to 19 September 2003.
Champions
Winners of the "Domestic series"
| | |
| --- | --- |
| 1998 | Roadblock |
| 1998-99 | Panic Attack |
| 1999-2000 | Chaos 2 |
| 2000-1 | Chaos 2 |
| Spring 2002 | Razer |
| Autumn 2002 | Tornado |
| 2003-4 | Typhoon 2 |
Merchandise
Robot Wars has to be one of the most merchandise-friendly gameshows ever. Here's just a selection:
Robot Wars - The First Great War (video)
Robot Wars - First World Championships (video)
Robot Wars (DVD boxed set)
Robot Wars Official Robot Guidebook (paperback)
Robot Wars Technical Manual (paperback)
Radio-controlled Sir Killalot toy (bric-a-brac)
Web links
Robot Wars wiki - a truly comprehensive fan site
Pictures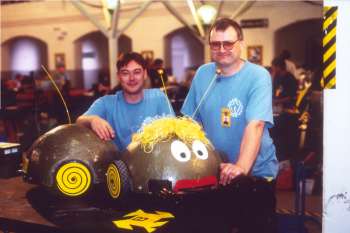 Two contestants with their robot Milly-Ann Bug.
Feedback