Rolling in It
Host
Broadcast
Over The Top Productions for ITV, 8 August 2020 to present
Synopsis
Saturday night game show where correct answers allow the player to roll coins down a moving conveyor belt towards labelled slots; think Tipping Point meets Plinko.
A press release announced the programme as follows:
Three contestants play alongside some of their favourite celebrities in a bid to go home with a big cash prize. But they'll need to have luck on their side because everything could change at the roll of a coin.
Three teams - made up of the player and their celebrity partner - have to roll a coin down a moving conveyor belt towards slots which are labelled with large cash sums to win, though also 'Bankrupt' slots which mean the player loses everything.
As the game progresses, the money values get larger, and as a result, so do the penalties. In this game of luck and fierce competition, the roll of one final coin could determine whether the contestant loses everything or goes home Rolling In It.
Stephen Mulhern hosts. If he's to be believed, he's also why the questions are multiple-choice.
Trivia
Sat on the shelf for over a year before being broadcast. It might have had to wait even longer, were it not for the fact that the Covid-19 pandemic meant a number of productions had to be brought forward.
Pictures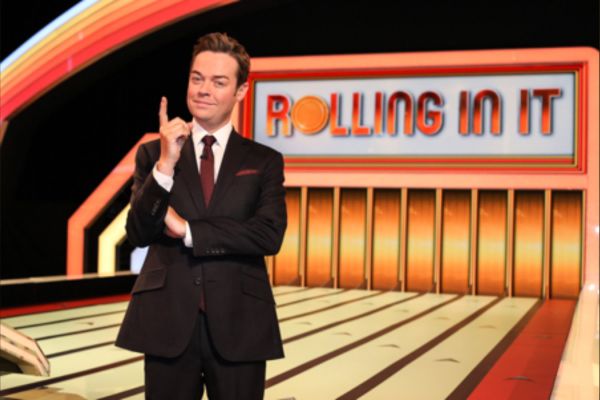 A promo picture for the show.
Feedback