Roy Walker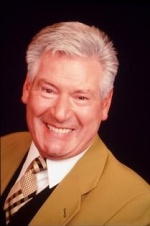 Biography
The Irish comedian came to fame by winning the talent show New Faces. He was one of The Comedians seen on the seminal 70s show of the same name.
He presented Catchphrase for well over ten years, and appropriately has cultivated a couple of new catchphrases for himself - "It's good but it's not right" and "Say what you see".
Trivia
Roy was once the Northern Ireland champion at throwing the hammer, and once a member of the Vienna Boys' Choir.
Mark Walker, Roy's son, presented a game show himself - Steal.
Web links
Feedback