Saturday Night Line Up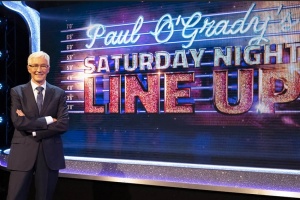 Host
Broadcast
Olga TV for ITV, 11 September 2021 to present
Synopsis
An ITV press statement put words into Paul O'Grady's mouth.
Each week we have four celebrity guests and they're asked questions like, 'Who's most likely to make a fool of themselves at a showbiz party?' or 'Who's the cleverest?' They then have to line up in the order they think the public will have put them in, and they score points if they get it right.
For our first show, we've got Rob Rinder, Mica Paris, Joanna Page, and Jack Dee, and there were questions like, 'Who's the richest?' The taxman could be watching, so they're not going to put themselves in the number one position for that one!
And there's a chatshow element, too, because the celebs share anecdotes for each question.
The show takes its name from being broadcast on a Saturday night, and from having the celebrities line up in an order.
Trivia
ITV were unsure whether the title was "Saturday Night Line Up", or "Saturday Night Line-Up" with a hyphen, or "Paul O'Grady's Saturday Night Line Up" with or without a hyphen. You'd think they could be consistent in their own press pack.
Feedback