Sid Waddell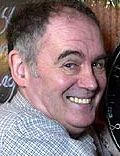 Biography
Although synonymous with his Georgie accent, Waddell was actually born in Alnwick, Northumberland. He has commentated on darts for donkeys years, first for the BBC then moving to Sky. He was the original producer of The Indoor League, the first British TV programme to broadcast darts along with many other pub games.
Trivia
Around the same time as Indoor League began, Sid was the producer of YTV's nightly regional news show, Calendar, producing over 600 editions of the programme.
Wrote the BBC Children's football-themed sitcom, Jossy's Giants.
He has a history degree from Cambridge. Who knew?
Web links
Feedback