Sion a Sian
Line 46:
Line 46:

[[Category:Dating]]

[[Category:Dating]]

[[Category:Wales]]

[[Category:Wales]]

+
---
Revision as of 21:35, 26 September 2006
Host
Dai Jones (original presenter)
I B Gruffudd
Co-hosts
Hostesses: Mair Rowlands, Mari Emlyn, Jenny Ogwen, Rosalind Lloyd, Gillian Elisa
Broadcast
Teledu Cymru / HTV Cymru, 22 April 1964 to 30 December 1967
Revived on HTV Cymru, 15 May 1971 to 1982
HTV for S4C, 1983 to 2003?
Synopsis
"Sion A... what?" I hear you cry. Never heard of it? In fact this was the original Welsh version of the programme which later became Mr and Mrs - first on Border and HTV then, from 1973, picked up nationally by ITV.
Despite the disastrous Julian Clary version in 1999, the programme had a good stab at a revival (HTV Wales for S4C) from 1996 to around 2003.
Catchphrases
"Bant i'r Bocs" (To the box)
"Y'ch chi yn byw 'da'ch gilydd?" (You do live together?!)
Inventor
Pictures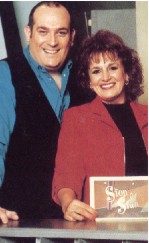 Picture 1
- S4C hosts,
Ieuan Rhys
and Gillian Elisa
Feedback