Stephen Fry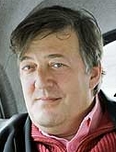 Biography
One of the most famous graduates of Queens College, Cambridge - although it seems from a talk to non-Oxbridge students in 2005 [1] that he didn't get on with everyone there. A member of Footlights, he is most associated with partner in crime and the voice of Pampers nappies, Hugh Laurie. Fry and Laurie continued for umpteen series in sketch shows, drama (Jeeves and Wooster) and in many episodes of Blackadder. Lately, Fry espouses his arcane knowledge to the great unwashed as the QiMaster on BBC Two and he's the voice of many Harry Potter audio books.
Trivia
His method of speaking is so distinct that in 2005 Stewart Ferris released a book called Tish and Pish: How to Be of a Speakingness Like Stephen Fry - A Delicious Collection of Sumptuous Gorgeosities.
In his youth, he spent three months in jail after stealing a credit card.
Reputedly, Fry was one of the first people in Europe to own an Apple Macintosh.
He drives a black cab (but no, he doesn't take fares).
He appeared as the quizmaster of School Challenge (based on University Challenge, of course) in the 2007 St. Trinian's film.
He served as Rector of the University of Dundee from 1992 to 1998. His successor in the post was Tony Slattery.
In a special BBC interview marking his 50th birthday, he admitted being a Countdown addict - despite his famous spoof - as well as Georgette Heyer novels, darts, ABBA, Led Zeppelin, swearing and a predeliction for Farley's Rusks.
He is allergic to champagne.
Books / Tapes
Web links
Feedback