Strictly Come Dancing
Synopsis
A bunch of non-dancing celebs attempt to learn a series of dances, perform them on a live Saturday night show, get insulted by a panel of judges, and face a public phone vote to decide who gets booted off each week. And all to raise money for Comic Relief / Children In Need / Telethon '89. Fairly bog-standard reality series mechanics then, but they certainly put on quite a show.
Renowned song-and-dance man Bruce Forsyth is our host, though he doesn't get to do much dancing, which seems a bit of a waste. Each celeb has been paired up with a professional dancer, and we get to see clips of them in rehearsal before they take to the floor to perform. After a minute and a half of dancing, their performance is appraised by four judges - the nasty one, the camp one, the old one and the Hot Gossip one - then they go off into the backroom (the transition covered by Brucie telling a joke that invariably falls flat) to be grilled by Glamorous Lady Co-Presenter and watch as the judges reveal their marks out of ten. Repeat until all the couples have danced.
The judges' marks count for 50% of the final score, and the public phone vote for (calculators out, chaps) the other 50%. In theory this should reduce the influence of the sympathy vote and help to keep the better dancers in the competition for longer, though it doesn't entirely work that way.
Even though it borrows a lot from other shows, Strictly Come Dancing does manage to come out feeling like something a little bit different for a Saturday night. It's a very visual spectacle, which instantly makes it stand out from all the purely musical entertainments that both BBC and ITV have thrown at us in recent years. There's a huge sense of fun and exuberance too, which even Bruce's strained jokes cannot quell. Credit must also be given to the Laurie Holloway Orchestra, who perform all the music live and, even more than the hosts, set the tone for the show. All in all, a surprising triumph for the BBC.
Participants
Series One
Natasha Kaplinsky (presenter) and Brendan Cole (winners)
Christopher Parker (actor) and Hanna Karttunen
Lesley Garrett (singer) and Anton Du Beke
Martin Offiah (rugby player) and Erin Boag
Claire Sweeney (actress and presenter) and John Byrnes
Verona Joseph (actress) and Paul Killick
David Dickinson (antiques expert) and Camilla Dallerup
Jason Wood (comedian) and Kylie Jones
Series Two
Jill Halfpenny (actress) and Darren Bennett (winners)
Denise Lewis (athlete) and Ian Waite
Julian Clary (comedian) and Erin Boag
Aled Jones (singer and presenter) and Lilia Kopylova
Roger Black (athlete) and Camilla Dallerup
Sarah Manners (actress) and Brendan Cole
Diarmuid Gavin (garden designer) and Nicole Cutler
Esther Rantzen (presenter) and Anton Du Beke
Carol Vorderman (presenter) and Paul Killick
Quentin Willson (motoring journalist/presenter) and Hazel Newberry
Series Three
Darren Gough (cricketer) and Lilia Kopylova (winners)
Colin Jackson (former athlete) and Erin Boag
Zoe Ball (presenter) and Ian Waite
James Martin (TV chef) and Camilla Dallerup
Patsy Palmer (actress) and Anton Du Beke
Bill Turnbull (TV journalist) and Karen Hardy
Dennis Taylor (snooker player/commentator) and Izabella Hannah
Will Thorp (actor) and Hanna Haarala
Gloria Hunniford (presenter) and Darren Bennett
Fiona Phillips (presenter) and Brendan Cole
Jaye Jacobs (actress) and Andrew Cuerden
Siobhan Hayes (actress) and Matthew Cutler
Series Four
Emma Bunton (singer) and Darren Bennett
Georgina Bouzova (actress) and James Jordan
Matt Dawson (rugby player) and Lilia Kopylova
Ray Fearon (actor) and Camilla Dallerup
Claire King (actress) and Brendan Cole
Louisa Lytton (actress) and Vincent Simone
Nicholas Owen (newsreader) and Nicole Cutler
Mica Paris (singer) and Ian Waite
Mark Ramprakash (cricketer) and Karen Hardy
Jan Ravens (impressionist) and Anton Du Beke
Peter Schmeichel (footballer) and Erin Boag
Carol Smillie (television presenter) and Matthew Cutler
Spoony (disk jockey) and Ola Jordan
Jimmy Tarbuck (entertainer) and Flavia Cacace
Specials
Champion of Champions 2004: Natasha Kaplinsky, Lesley Garrett, Martin Offiah, Jill Halfpenny, Denise Lewis and Aled Jones were reunited with their previous partners for this live special broadcast on 22 December 2004. The usual judges presided. Winners were Jill Halfpenny and Darren Bennett.
Strictly Ice Dancing: A one-off ice-dance version broadcast on 26 December 2004. Laurie Holloway's band was not present, and since the show was recorded, the studio audience rather than the public got to vote for 50% of the score. The judges were Craig Revel Horwood, Doreen Hoppe, Chris Howarth and Nicky Slater. The couples were:
Rowland Rivron (TV presenter) and Charlotte Clements
Carol Smilie (TV presenter) and Oula Jaaskelainen
Marcus Patric (actor) and Leigh Mack
Scarlett Johnson (actress) and Daniel Whiston
Jessica Taylor (singer) and Robert Burgerman
David Seaman (former footballer) and Zoia Birmingham
The winner was David Seaman, who had been brought in as a late replacement for the injured Paul Gascoigne.
Strictly African Dancing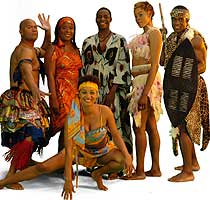 Yes, they do dress like that at home.
Another one-off, this one for the Africa Lives on the BBC season. Hosted by Martin Offiah and Natasha Kaplinsky, six celebrities "of African or Caribbean origin" each learnt an African dance and then went through the usual performance-and-voting procedure. The celebs were:
Robbie Earle (ex-footballer) - winner
Tessa Sanderson (athlete)
Tupele Dorgu (Coronation Street actress)
Antonia Okonma (Bad Girls actress)
Tunde Baiyewu (singer with The Lighthouse Family)
Louis Emerick (actor)
The judges were Stacey Haynes, Peter Badejo, Todd Twala and Craig Revel-Horwood. Hugh Quarshie replaced Alan Dedicoat on voiceover duties.
Champion of Champions 2005: A recorded show, aired on Christmas Eve 2005, which featured the last four from 2005 series, together with two celebrities from the US version, Dancing With the Stars. The partnerships were:
Rachel Hunter (supermodel) and Darren Cole
Evander Holyfield (boxer) and Karen Hardy
Zoe Ball and Ian Waite
Darren Gough and Lilia Kopylova - winners
Colin Jackson and Erin Boag
James Martin and Camilla Dallerup
Inventor
Based on Come Dancing devised by Eric Morley.
Trivia
The worst ever judges' score was 8 (out of 40), achieved by Quentin Willson and Hazel Newberry for the cha cha cha on their one and only competitive appearance. A perfect 40 has been achieved twice, by Jill Halfpenny and Darren Bennet for their jive in the series 2 final, and then by Darren Gough and Lilia Kopylova in the 2005 Christmas special.
Judge Bruno Tonioli was once a backing dancer and choreographer for Bananarama, as well as Wham!, Elton John (he's in the I'm Still Standing video) and Paul McCartney, among many others.
The "Strictly" bit in the title is a reference to the 1992 film Strictly Ballroom.
The Strictly Come Dancing format has been widely exported under the title Dancing With The Stars, and the US and Australian versions have both topped their countries' TV ratings charts. Len Goodman and Bruno Tonioli appeared as judges on the US version, for which Alan Dedicoat also did the voiceover (though Deadly did his bit by satellite from London).
Merchandise
It's Strictly Dancing with Natasha & Brendan (VHS) | (all-region DVD)
Strictly Come Dancing - hardback book (2005) and revised 2006 edition
Sadly the Anton Du Beke mug and flask are no longer available.
Pictures
File:Strictly come dancing judges.jpg
Judges with a high opinion... of themselves.

(left to right): Bruno Tonioli, Arlene Phillips, Len Goodman, Craig Revel Horwood.
On the actual show, Craig sits on the left, Bruno on the right.
Web links
Strictly Dancing Online - excellent fan site
Ian & Victoria's Come Dancing Page - another good fan site
Homepages for dancers featured on the show:
Anton Du Beke & Erin Boag
Camilla Dallerup

Darren Bennett & Lilia Kopylova
Hazel Newberry (site requires Flash)
Nicole Cutler
See also
Feedback