Stuart Hall
(→Biography: Corrections made)

Line 40:
Line 40:

== Biography ==

== Biography ==

-

Long-serving football reporter and host of ''Points North West'' and ''Look North'', known for his tendency to crack up laughing at the antics of contestants on [[It's a Knockout]].

+

Long-serving football reporter and host of ''North West'' and ''North '', known for his tendency to crack up laughing at the antics of contestants on [[It's a Knockout]].

== Trivia ==

== Trivia ==
---
Revision as of 22:26, 26 February 2007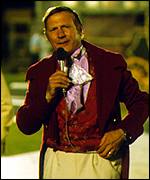 Biography
Long-serving football reporter and host of Look North West and North West Tonight, known for his tendency to crack up laughing at the antics of contestants on It's a Knockout.
Trivia
He claimed to have coined the term "the beautiful game" for football.
Owns a large collection of antique clocks, including one previously owned by Napoleon.
Books / Tapes
Heaven And Hall: A Prodigal Life (collected writing) (hardback) | (tape)
Web links
Feedback