Stuart Hall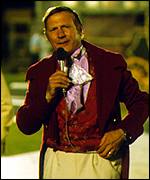 Biography
Long-serving football reporter and host of Look North West and North West Tonight, Hall is best known for his tendency to crack up laughing at the antics of contestants on It's a Knockout and his frequently irritating habit of demanding reactions from breathless competitors as soon as they'd crossed the finish line.
Trivia
Owns a large collection of antique clocks, including one previously owned by Napoleon.
Also wrote a sports column in the Radio Times. Which is to say that the occasional fragments we could make sense of, appeared to be about sport. The rest, who knows? After his 2012 arrest for a series of indecent assaults between 1967 and 1985 (to which he subsequently pleaded guilty, and was ultimately sentenced to 30 months in jail), he was replaced by the more comprehensible Colin Murray.
Appointed OBE in the 2012 New Years Honours list.
Catchphrase
As used on North West Tonight: Until tomorrow, I wish you as always... a fond farewell.
Books / Tapes
Heaven And Hall: A Prodigal Life (collected writing) (hardback) | (tape)
Web links
Feedback