Superstars
Synopsis
Marvellous sporting competition where the nation's favourite sports stars (and in the recent remake, slightly past-it sports stars that you've still heard of and females) battle-it-out good naturedly to find out who is the best all round sporting athelete, whilst answering those all important proto-Top Trumps questions like "who is better at swimming - boxer Barry MacGuigan or footballer John Barnes?"
In the recent remake the producers pull each athelete out their perceived best event (i.e. there's no way they're going to let a world class rower do the kayaking, for example) and they pull themselves out of another. Points awarded from first to worst (10, 7, 4, 2, 1, 0) over the eight events and the winners and highest scorers go through to the grand final which adds new events such as archery and tennis. The classic eight though are (in no particular order):
100m sprint
Freestyle swimming
Kayaking
The Gym Tests (the event that judo master Brian Jacks excelled at, a minute of squat thrusts followed by a minute of dips)
800m
Target golf (five goes to chip a ball as close to the hole as possible, replaced by the shot putt in series two which is massively annoying because we think the show needs a proper game of skill.)
Football (dribble round some cones then get past the keeper, up to three attempts, ties broken by time)
Mountain biking (in the seventies around a track, in the modern remake up a steep hill).
The remake filmed in La Manga, with Johnny Vaughan and Suzi Perry at the helm, felt nicely modern in presentation whilst keeping many a nod to the past in showing clips of classic Superstars in between events and keeping the original theme music and logo.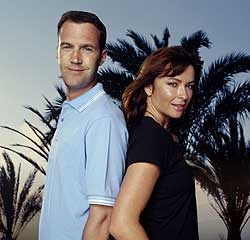 Johnny and Suzi. Sounds like a musical, that.
Champions
1973: David Hemery (athletics)
1974: John Conteh (boxing)
1976: David Hemery (athletics)
1977: Tim Crooks (rowing)
1978: Brian Jacks (judo)
1979: Brian Jacks (judo)
1981: Keith Fielding (rugby league) - also "Challenge of Champions" winner
1982: Brian Hooper (athletics)
1983: Brian Hooper (athletics)
1984: Gary Cook (athletics)
1985: Robin Brew (swimming)
2002: Austin Healey (rugby) - Sport Relief special
2003: Men - Du'aine Ladejo (athletics), Women - =1 Zoe Baker (swimming) & Lesley McKenna (snowboarding)
2005: Men - Alain Baxter (skiing), Women - Zoe Baker
Key Moments
For a show with such a distinguished history, one of the few things that ever gets bought up is THAT bit where Kevin Keegan falls off his bike.
David Vine (and later, Suzi Perry) used to rather annoyingly demand reactions from the competitors the moment they'd crossed the finish line in most events - surely they should have been given the chance to get their breath back?!
Theme music
It's called Heavy Action, fact fans.
Trivia
Point of pedantry - the original series was actually called The Superstars (hence its companion show The Superteams), but the revivial was just called Superstars.
The format was sold to the US, Ireland, Sweden and Canada. There was also a European version from 1975 to 1980, and a World version from 1977 to 1982 - the last of which was won by British pole vaulter Brian Hooper. These shows and other International one-offs and Junior Superstars series were all broadcast on the BBC by the same Vine/Pickering match-up.
Boxer Joe Frazier nearly drowned on the first US series of Superstars because, after nearly drowning in the pool, he had to admit that he'd never swum before. Frazier said "How was I to know I couldn't [do it] unless I tried it?"
Links
BBC Official Site, where amongst other things you can find out the winners of all the series!
Feedback