TV Showdown
Host
Co-hosts
Captains: Fay Ripley and Rob Beckett
Broadcast
Livewire Pictures for ITV, 9 January 2021 to 2 April 2022 (12 episodes in 2 series)
Synopsis
Basically Telly Addicts. The ITV Press Centre describe this as a "raucous, fiercely contested battle in which celebrities' pride is at stake."
Featuring clips from the best-loved shows, adverts and music videos from today and recent decades, Paul tests the teams' knowledge of what's on the box, from Blind Date to Bake Off and everything in between.
Round 1 sees contestants answer questions based on a clip. Round 2, they must identify a TV star based on a set of clues given by a celeb guest. In Round 3 team members pick a category and each answer a question based on that. The fourth round sees each panellist face their own set of questions in a quick-fire Q&A round, before scores are totalled and the winning team is announced.
It's one thing to be on the telly - but it's another to know your stuff about it!
The host is Paul Sinha, from Round Britain Quiz, Fighting Talk, Just a Minute and The News Quiz, and apparently he's done some telly work as well.
If you can help us to expand this entry, please provide as much information as possible, using the feedback form below.
Trivia
Billed in some places as Paul Sinha's TV Showdown, and in others as Television Showdown.
Pictures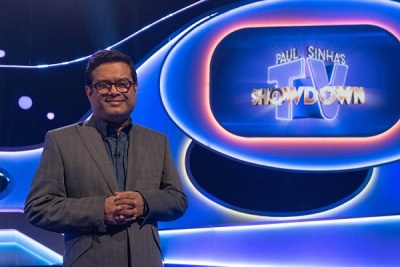 Television's famous Paul Sinha.
Feedback