Take a Letter
(6 intermediate revisions not shown)
Line 10:
Line 10:

== Broadcast ==

== Broadcast ==

-

Granada for ITV, 10 January 1962 to 24 June 1964 (about 100 episodes)

+

Granada for ITV, 10 January 1962 to 24 June 1964 (episodes)

-

Action Time for UK Living, 1997 (may not be linked to original show)

+

Action Time for UK , 1997 (may not be linked to original show)

</div>

</div>

Line 28:
Line 28:

Holness got the job shortly after arriving in Britain from South Africa. His background was in theatre and radio, although he was a complete novice to television. However, that was hardly a problem, because, as he once revealed in an interview, they wanted a host who hadn't been seen on TV before in any case.

Holness got the job shortly after arriving in Britain from South Africa. His background was in theatre and radio, although he was a complete novice to television. However, that was hardly a problem, because, as he once revealed in an interview, they wanted a host who hadn't been seen on TV before in any case.

-

Each week in the original version, there was a viewers question set for a &pound;5 prize. In a particular week 980,000 entries were received.

+
+

 

+
+

 

+

Each week in the original version, there was a viewersquestion set for a &pound;5 prize. In a particular week 980,000 entries were received.

== Pictures ==

== Pictures ==
---
Revision as of 06:56, 26 October 2021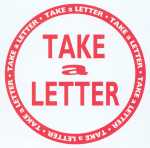 Host
Jenny Hull
Broadcast
Granada for ITV, 10 January 1962 to 24 June 1964 (128 episodes)
Action Time for UK Gold, 24 March to ? 1997 (may not be linked to original show)
Synopsis
To be completed
Inventor
Created by David Housham.
Trivia
Holness got the job shortly after arriving in Britain from South Africa. His background was in theatre and radio, although he was a complete novice to television. However, that was hardly a problem, because, as he once revealed in an interview, they wanted a host who hadn't been seen on TV before in any case.
Janet Pyne writes:
My father (the late Glyn Williams) was one of only a couple of contestants on Take a Letter to win the maximum £1000 approximately 50 years ago. He found Bob Holness (then Robert) to be a true gentleman and he enjoyed his time on the show immensely.
Each week in the original version, there was a viewers' question set for a £5 prize. In a particular week 980,000 entries were received.
Pictures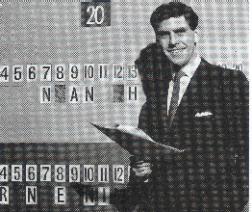 King Bob on the original
Take a Letter
set.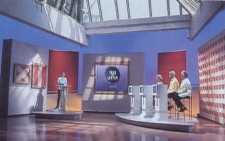 Picture 2
- The new
Take a Letter
set.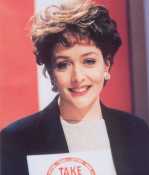 Picture 3
- Jenny Hull.
Feedback