Taskmaster
(54 intermediate revisions not shown)
Line 5:
Line 5:

== Host ==

== Host ==

-

Greg Davies

+

Greg Davies

== Co-hosts ==

== Co-hosts ==

-

Umpire: Alex Horne

+

Umpire: Alex Horne

== Broadcast ==

== Broadcast ==

-

Avalon Television for Dave, 28 July 2015 to present

+

Avalon Television for Dave, 28 July 2015

+

 

+

to present

</div>

</div>

Line 25:
Line 27:

But a problem shared is a problem halved, so Horne has invited some comedy friends to perform these surreal dreams. Greg Davies hosts the programme, ranks the performances, and the best player over the programme (and over the series) is the winner.

But a problem shared is a problem halved, so Horne has invited some comedy friends to perform these surreal dreams. Greg Davies hosts the programme, ranks the performances, and the best player over the programme (and over the series) is the winner.

-

<div class=image>[[File:Taskmaster panel.jpg|400px]]''The players from Series 1: Ranganathan, Skinner, Conarty, Widdicombe, Key (seated) Davies and Horne''</div>

+

<div class=image>[[File:Taskmaster panel.jpg|400px]]''The players from Series 1: Ranganathan, Skinner, , Widdicombe, Key (seated) Davies and Horne''</div>

''Taskmaster'' is theatre of the absurd, sensible people doing insensible things. The atmosphere was heightened by the filming location - almost all the tasks took place in a hired cottage, decorated as a shrine to the Taskmaster. There was no narration over the films, just the natural sound of the players talking.

''Taskmaster'' is theatre of the absurd, sensible people doing insensible things. The atmosphere was heightened by the filming location - almost all the tasks took place in a hired cottage, decorated as a shrine to the Taskmaster. There was no narration over the films, just the natural sound of the players talking.

-

Fans of bizarre television flocked to this show, and it gained audience as the series went on. It looks like Dave has an actual hit on their hands, their first since [[Argumental]] about five years earlier.

+

Fans of bizarre television flocked to this show, and it gained audience as the series went on. hit , their first since [[Argumental]] about five years earlier.

+

 

+
+

 

+
+

 

+
+

 

+
+

 

+
+

 

+
+

 

+
+

 

+

== Champions ==

== Champions ==

Line 43:
Line 61:

|Autumn 2016

|Autumn 2016

|Rob Beckett

|Rob Beckett

+
+
+
+
+
+
+
+
+
+
+
+
+
+
+
+
+
+
+
+
+
+
+
+
+
+
+
+
+
+
+
+
+
+
+
+
+
+
+
+
+
+
+
+
+
+
+
+
+
+
+
+

|}

|}

== Participants ==

== Participants ==

-

'''2015'''<br>

+

'''2015'''

*[[Frank Skinner]]

*[[Frank Skinner]]

-

*Josh Widdicombe

+

*Josh Widdicombe

-

*Roisin Conarty

+

*Roisin

*[[Romesh Ranganathan]]

*[[Romesh Ranganathan]]

*Tim Key

*Tim Key

-

'''2016''' (Summer series)<br>

+

2016 (Summer series)

*Doc Brown

*Doc Brown

*Joe Wilkinson

*Joe Wilkinson

*[[Jon Richardson]]

*[[Jon Richardson]]

-

*Katherine Ryan

+

*Katherine Ryan

*[[Richard Osman]]

*[[Richard Osman]]

-

'''2016''' (Autumn series)<br>

+

2016 (Autumn series)

*[[Al Murray]]

*[[Al Murray]]

*[[Dave Gorman]]

*[[Dave Gorman]]

*Paul Chowdhry

*Paul Chowdhry

-

*Rob Beckett

+

*Rob Beckett

-

*Sara Pascoe

+

*Sara Pascoe

-

'''2017'''<br>

+

2017

*[[Hugh Dennis]]

*[[Hugh Dennis]]

-

*Joe Lycett

+

*Joe Lycett

*Lolly Adefope

*Lolly Adefope

*[[Mel Giedroyc]]

*[[Mel Giedroyc]]

*[[Noel Fielding]]

*[[Noel Fielding]]

+
+
+
+
+
+
+
+
+
+
+
+
+
+
+
+
+
+
+
+
+
+
+
+
+
+
+
+
+
+
+
+
+
+
+
+
+
+
+
+
+
+
+
+
+
+
+
+
+
+
+
+
+
+
+
+
+
+
+
+
+
+
+
+
+
+
+
+
+
+
+
+
+
+
+
+
+
+
+
+
+
+
+
+
+
+
+
+
+
+
+
+
+
+
+
+
+
+

== Inventor ==

== Inventor ==

Line 89:
Line 257:

Based on a stage show at the Edinburgh Festival in 2010 and 2011.

Based on a stage show at the Edinburgh Festival in 2010 and 2011.

-

Judgement was pronounced at the Clapham Grand theatre.

+

was pronounced at the Clapham Grand theatre

+

 

+
+

 

+
+

 

+
+

 

+
+

 

+
+

 

+

.

== Web links ==

== Web links ==

Line 98:
Line 278:

[http://www.comedy.co.uk/guide/tv/taskmaster/ British Comedy Guide entry]

[http://www.comedy.co.uk/guide/tv/taskmaster/ British Comedy Guide entry]

+
+

== See also ==

== See also ==

Line 106:
Line 288:

[[Category:Stunts and Dares]]

[[Category:Stunts and Dares]]

+

[[Category:Current]]

[[Category:Current]]
---
Revision as of 09:50, 9 September 2022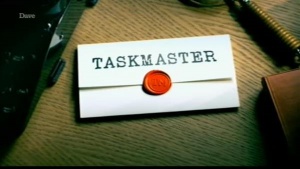 Host
Co-hosts
Umpire: Alex Horne
Broadcast
Avalon Television for Dave, 28 July 2015 to 6 November 2019 (72 episodes in 9 series + 2 specials)
Avalon Television for Channel 4, 15 October 2020 to present
Synopsis
Comedians are given very strange things to do.
Alex Horne's mind is a strange place. All of the usual elements are there, but they're all mixed up. He makes hot toothpaste pies. He plays golf with hen's eggs. He draws horses while riding horses.
But a problem shared is a problem halved, so Horne has invited some comedy friends to perform these surreal dreams. Greg Davies hosts the programme, ranks the performances, and the best player over the programme (and over the series) is the winner.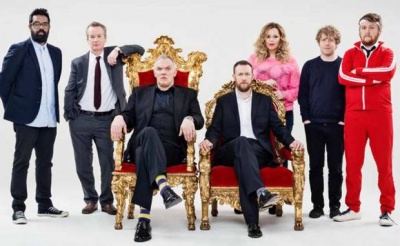 The players from Series 1: Ranganathan, Skinner, Conaty, Widdicombe, Key (seated) Davies and Horne
Taskmaster is theatre of the absurd, sensible people doing insensible things. The atmosphere was heightened by the filming location - almost all the tasks took place in a hired cottage, decorated as a shrine to the Taskmaster. There was no narration over the films, just the natural sound of the players talking.
Fans of bizarre television flocked to this show, and it gained audience as the first series went on, and as each subsequent series aired. Taskmaster turned into a massive hit for Dave, their first since Argumental about five years earlier. After five years, during which the format was honed to perfection, UKTV's contract expired and the show went up for new bids. Channel 4 bought the rights; we'll have to see what Taskmaster is like on its new home.
Key moments
The blatant I'm-only-doing-this-because-the-recommission-of-my-show-depends-on-it apathy of Dave Gorman's performance.
Any episode where a participant is subjected to extra punishment, such as Josh Widdicombe being asked to count the numbers of beans, spaghetti hoops and grains of rice in their respective containers or Rob Beckett being asked to spend a task talking in an accent other than his own or Mike Wozniak bursting a haemorrhoid trying to fart.
Nish Kumar getting fed up with one of the live tasks and throwing a coconut at the Taskmaster's head and promptly being disqualified. Mind you, the highlight of that series was Bob Mortimer, Aisling Bea and Sally Phillips' less than affectionate tribute to an unwitting victim called Rosalind…
Rhod Gilbert using his prize tasks to embarrass Davies, especially when he gets Greg's mother involved.
The barely concealed look of glee on Horne's face after successfully predicting that someone, namely Ed Gamble, would answer the task 'Say a letter of the alphabet' with 'a letter of the alphabet'.
Catchphrases
"All the information's on the task."
Champions
| | |
| --- | --- |
| 2015 | Josh Widdicombe |
| Summer 2016 | Katherine Ryan |
| Autumn 2016 | Rob Beckett |
| Spring 2017 | Noel Fielding |
| Autumn 2017 | Bob Mortimer |
| Spring 2018 | Liza Tarbuck |
| Autumn 2018 | Kerry Godliman |
| Spring 2019 | Lou Sanders |
| Autumn 2019 | Ed Gamble |
| 2020 | Richard Herring |
| Spring 2021 | Sarah Kendall |
| Autumn 2021 | Morgana Robinson |
| Spring 2022 | Sophie Duker |
Champion of Champions
| | |
| --- | --- |
| 2017 | Josh Widdicombe |
| 2022 | Richard Herring |
New Year Treat
| | |
| --- | --- |
| 2021 | Shirley Ballas |
| 2022 | Adrian Chiles |
Participants
2015
2016 (Summer series)
2016 (Autumn series)
2017 (Spring series)
2017 (Autumn series)
Nish Kumar
Sally Phillips
Champion of Champions
Josh Widdicombe
Katherine Ryan
Rob Beckett
Noel Fielding
Bob Mortimer
2018 (Spring series)
Asim Chaudhry
Russell Howard
2018 (Autumn series)
James Acaster
Jessica Knappett
Kerry Godliman
Phil Wang
2019 (Spring series)
Joe Thomas
Lou Sanders
Sian Gibson
2019 (Autumn series)
Katy Wix (but see Trivia)
Rose Matafeo
2020
Daisy May Cooper
Katherine Parkinson
Mawaan Rizwan
Richard Herring
2021 (New Year Treat)
John Hannah
Krishnan Guru-Murthy
Nicola Coughlan
Shirley Ballas
2021 (Spring series)
Charlotte Ritchie
Jamali Maddix
Mike Wozniak
Sarah Kendall
2021 (Autumn series)
Desiree Burch
Guz Khan
Morgana Robinson
2022 (New Year Treat)
2022 (Spring series)
Ardal O'Hanlon
Bridget Christie
Sophie Duker
Champion of Champions
Ed Gamble
Kerry Godliman
Liza Tarbuck
Lou Sanders
Richard Herring
2022 (Autumn series)
Fern Brady
John Kearns
Munya Chawawa
Sarah Millican
Inventor
Alex Horne, who also wrote and produced the show.
Title music
The Horne Section.
Incidental music by Dru Masters.
Trivia
Based on a stage show at the Edinburgh Festival in 2010 and 2011.
In early series, judgement was pronounced at the Clapham Grand theatre. Later series used a proper studio set.
Series 1 participant Tim Key was retained for future series as a Task Consultant.
Pre-watershed editions were made of each episode, which wasn't too much trouble for the most part. However one of Alice Levine's task attempts had to be so badly censored they had to add a line to explain just how much had been taken out. Way to spoil the illusion. When aired on E4, these editions were aired as Taskmaster Bleeped. The pre-watershed edition of the series 12 premiere was aired by accident in that slot, while the following four episodes - as a result of residual technical errors following an activation of the fire suppression systems at Red Bee Media's broadcast centre - aired without subtitles.
Just as they had done with Penn & Teller: Fool Us, The CW bought the eighth series in 2020 with a view to producing a remake. It lasted one episode before being hauled off to CW Seed and replaced by Supernatural reruns.
Kerry Godliman, Katherine Ryan and Alan Davies covered for Katy Wix, Katy Wix and Jonnie Peacock in series nine, episode five, series nine, episode six and the 2022 New Year Treat respectively.
After Greg and Alex, the contestant with the most appearances is Kerry Godliman, with twelve appearances.
For the first series, the trophy was a bog-standard off-the-shelf trophy, while subsequent series winners took home a golden replica of Greg's head. Champion of Champions episodes forked over a replica of the rest of Greg's body. Josh Widdicombe won the first series and the first Champion of Champions series, meaning that - as of the 2022 episode - Richard Herring is actually the only owner of Greg's body.
Web links
taskmaster.info, a database about Taskmaster around the world.
See also
Feedback