Taskmaster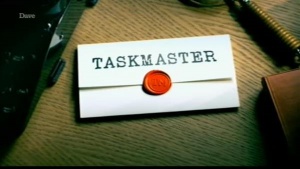 Host
Greg Davies
Co-hosts
Umpire: Alex Horne
Broadcast
Avalon Television for Dave, 28 July 2015 to present
Synopsis
Comedians are given very strange things to do.
Alex Horne's mind is a strange place. All of the usual elements are there, but they're all mixed up. He makes hot toothpaste pies. He plays golf with hen's eggs. He draws horses while riding horses.
But a problem shared is a problem halved, so Horne has invited some comedy friends to perform these surreal dreams. Greg Davies hosts the programme, ranks the performances, and the best player over the programme (and over the series) is the winner.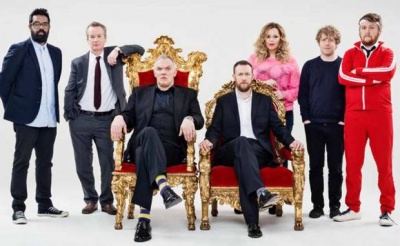 The players from Series 1: Ranganathan, Skinner, Conarty, Widdicombe, Key (seated) Davies and Horne
Taskmaster is theatre of the absurd, sensible people doing insensible things. The atmosphere was heightened by the filming location - almost all the tasks took place in a hired cottage, decorated as a shrine to the Taskmaster. There was no narration over the films, just the natural sound of the players talking.
Fans of bizarre television flocked to this show, and it gained audience as the series went on. It looks like Dave has an actual hit on their hands, their first since Argumental about five years earlier.
Participants
2015

Josh Widdicombe
Roisin Conarty
Romesh Ranganathan
Tim Key
2016 (Summer series)

Doc Brown
Joe Wilkinson
Jon Richardson
Katherine Ryan
2016 (Autumn series)

Rob Beckett
Sara Pascoe
Paul Chowdhry
Inventor
Alex Horne, who also wrote and produced the show.
Title music
The Horne Section.
Incidental music by Dru Masters.
Trivia
Based on a stage show at the Edinburgh Festival in 2010 and 2011.
Judgement was pronounced at the Clapham Grand theatre.
Web links
See also
Feedback