Television Top of the Form
Line 1:
Line 1:
+
+

<div class="box">

<div class="box">

== Host ==

== Host ==

Line 41:
Line 43:

[[Transworld Top Team]]

[[Transworld Top Team]]

+
+
+
+
+

[[Category:Academic Quiz]]

[[Category:Academic Quiz]]

[[Category:Long-Running]]

[[Category:Long-Running]]
---
Revision as of 16:15, 20 December 2008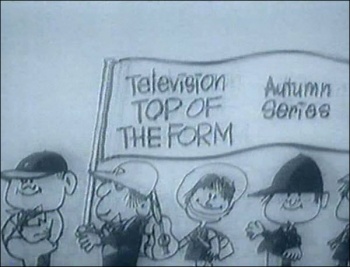 Host
Geoffrey Wheeler (1962-75 and 2006) with David Dimbleby (1962), Paddy Feeny (1963-6)
Broadcast
BBC Television, 25 April 1953 (special, as Top of the Form)
BBC1, 1962-75
BBC Four, 2006 (one-off)
Synopsis
This was the TV version of Top of the Form, the popular radio quiz for secondary schools. The contest was between two teams of four, with a requirement that the team members must be of different ages. The show initially had a rather unusual setup, involving a link-up between two separate schools with two questionmasters, one for each team.
Trivia
Although a regular series didn't emerge until 1962, Top of the Form was first broadcast on TV as a one-off special on 25 April 1953. An all-boys team from Marylebone Grammar School played an all-girls team from Sheffield High School.
Judith Chalmers was originally lined up to co-present, but was vetoed by The Powers That Be on the grounds that a woman wouldn't have the authority required of a questionmaster.
A one-off international match was held in 1965, between teams representing England and Germany. Full international competition was held in Transworld Top Team from 1967.
Theme music
"Marching Strings" by Marshall Ross, performed by Ray Martin and His Concert Orchestra.
Web links
Whirligig Snippet - partial script from a 1964 edition.
Memories of a 1972 match between Manchester and Stranraer
See also
Pictures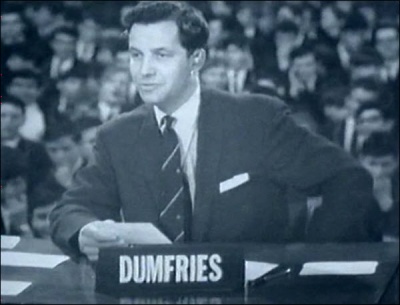 Geoffrey Wheeler handling questions for Dumfries
Feedback