Tenball
Host
Broadcast
LWT for ITV, 8 April to 20 May 1995 (7 episodes in 1 series)
Synopsis
This was meant to be a stunning new sport wasn't it? So good in fact that after work or down the pub on Fridays we still play, erm... Pool. Classy.
Still let's give this a chance, after all if Phillip Schofield can act with a load of wooden animals on stage, working with this load of balls should be no problem.
Two professional snooker players would square up against each other .The rules were like ordinary snooker with the major difference being that the first colour you potted after potting a red determined the points value of all the colours of that break. There was a special ball, the Tenball which was worth (get this!) ten points, and was obviously the crowning glory. There were 15 reds with the tenball in the middle, and all 16 balls were arranged in a diamond shape. The maximum break was precisely 200. Also there were various special rules aimed at speeding the game up; for example, there was no returning balls to their previous positions after a foul, at least one ball had to hit a cushion or a pocket on every stroke, and balls would only be cleaned if they actually got something stuck to them (unlike standard snooker, a mere accumulation of chalk dust didn't count).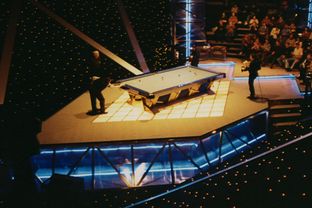 It's like snooker... but in SPACE!
OK, so it was essentially snooker, but it was presented quite nicely, there being a spacey-futuristic set which looked as if it was hanging down from the suspended audience stalls. We were also treated to various fun facts such as the speed of the break so you too can wow at the fact that Alex Higgins whacked a ball at 18 mph.
Pretentious as hell then, but its heart was vaguely in the correct place.
Inventor
Russ Lindsay and Peter Powell, with Barry Hearn and Steve Davis.
Trivia
Ronnie O'Sullivan achieved the maximum 200 break while practising with Steve Davis.
Jimmy White won the series, beating Ronnie in the final. The tournament high break was Peter Ebdon's 122.
Many ITV regions declined to show the series, and it was only shown in the LWT, Granada, Central, Yorkshire, Tyne Tees and Border regions.
Merchandise
Web links
Andy Walmsley's "space age" set design
Feedback