The Big Break
Line 16:
Line 16:

An example of a regional talent show with more than a little inspiration taken from ''[[New Faces]]'' (the Marti Caine revival of which had just finished a three year-run).

An example of a regional talent show with more than a little inspiration taken from ''[[New Faces]]'' (the Marti Caine revival of which had just finished a three year-run).

-

-

<div class="image">[[File:Thebigbreak scoreboard.jpg|400px]]''What are the scores, George Duffus?''</div>

Celebrity judges provided the scores and the overall winner presumably got the chance to escape the public radar within hours of the grand final coming off air.

Celebrity judges provided the scores and the overall winner presumably got the chance to escape the public radar within hours of the grand final coming off air.

+
+
+
+

== Trivia ==

== Trivia ==

Line 25:
Line 27:

Recorded live at the Eden Court Theatre, Inverness.

Recorded live at the Eden Court Theatre, Inverness.

-

== Theme music ==

+

== ==

-

Musical director - Alex Sutherland

+

[[Category:Variety]]

[[Category:Variety]]
---
Revision as of 23:51, 20 August 2017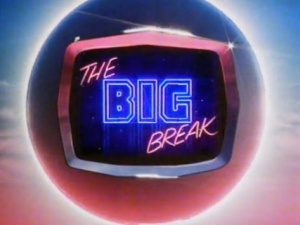 Host
George Duffus
Broadcast
Grampian (regional), 1989
Synopsis
An example of a regional talent show with more than a little inspiration taken from New Faces (the Marti Caine revival of which had just finished a three year-run).
Celebrity judges provided the scores and the overall winner presumably got the chance to escape the public radar within hours of the grand final coming off air.
Theme music
Musical director - Alex Sutherland
Trivia
Recorded live at the Eden Court Theatre, Inverness.
Pictures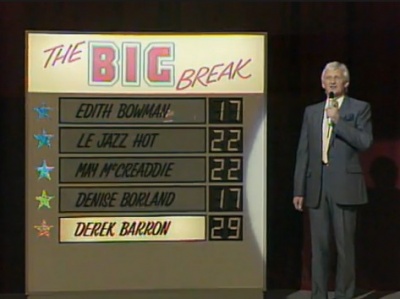 What are the scores, George Duffus?
Feedback