The Big Breakfast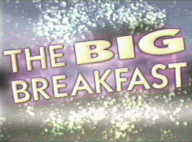 Host
Chris Evans and Gaby Roslin (original hosts)
Others include: Mike McClean, Amanda Byram, Richard Bacon, Rick Adams, Sharron Davies, Johnny Vaughan, Denise Van Outen, Kelly Brook, Liza Tarbuck, Mark Little, Sara Cox, Peter Smith (news) Paula Yates, Bob Geldof, Mark Lamarr, Keith Chegwin, Paul Ross, Richard Orford, Lily Savage, Zoe Ball, Dannii Minogue, Vanessa Feltz, Melanie Sykes, Gail Porter, Amanda Byram, Donna Air, Paul Tonkinson, Bob Monkhouse, Angela Rippon (news), Phil Gayle (news), Zig and Zag.
Broadcast
Channel 4, 1992-02
Synopsis
Let's take a look at things Bob Geldof has done in his life, shall we? First there was The Boomtown Rats, but the less said about them the better. Then he gotta lotta bottle doing some milk adverts and then of course there was that Live Aid thing. And then he launched the careers of Chris Evans and Gaby Roslin in what was one of the biggest phenomenonenoms of, ooh, 1992.
Yeah, yeah, we know it wasn't inherently a game show, but the game segments on the Brekkie are worth an entry since they were regularly amongst the most memorable parts of the show.
The first one, Whose Washing Line is it Anyway? was a fairly staid one where contestants tried to work out who someone was by items that were hung up on a washing line. The next on however was Guess the Mess, a Dingbats sort of thing.
Summer games took a Knockout twist too such as One Lump or Two (caller would direct a blindfolded swimmer to a floating sugar cube to win a prize then they could gamble with the time remaining to get to the other one to win a holiday) and Court with Your Pants Down at Wimbledon time, but the first really great game was a game called Stop the Mop. It was genius. A piece of film would be played of a mop going round the kitchen which would have various appliances in it.
But most of them were boring really relying on five callers a single question with five possible answers.
And then the show relaunched with Rick Adams and Sharron Davies. Forget them for now, they weren't terrible, we're just not interested. Instead save your interest for... Johnny Vaughan and Denise Van Outen!
Popular and funny, the games of The Big Breakfast took a new twist as comedy character acting came into it. Consider More Tea Vicar, the aim of the game was to guess how many cups were shown on a film, not an original idea (they'd already used it) but under Johnny and Denise it was regularly hilarious. Johnny would play the lecherous vicar whilst Denise would play the raving silent Nun Sister Philomena or in it's next incarnation, a hippy Nun. 'Someone's ringing my Lord, on Line o-n-e!'
Johnny then played a character named Syndon Chump, the ultimate game show host hosting a mock game show called Gagging for It and played it dead on. It was the ultimate satire and it was hilarious, the cheesy grins, the plugging of 'Syndon Chumps World of Gags', the Bob Monkhouse-isms... it was great. Denise played the sort of common housewife assistant who couldn't be bothered. And of course, was brilliant. The game was very simple, viewers rang in and tried to guess how many correct punchlines the winning team would get in a quickfire quiz, but it was done (again) tremendously stylishly with Syndon's personal problems coming more to the fore in each episode, the opening joke being something like 'Why didn't the chicken cross the road? Because chickens wouldn't know what roads were and are kept in farms. That's not right...' and the section would always lead into the ad break with a joke like 'Knock Knock? Who's there? Yuri. Yuri who? Yuri-atching The Big Breakfast where life starts at seven'...
Denise left to be replaced by Kelly Brook and the show took another turn, it would start piss-taking other 'proper' shows. The first one was Punaround where Johnny, as Spike Reid, would play a game very similar to Mike Reid's Runaround, only based on puns that had been in the papers that day. Kelly wasn't a popular host of the show and she was pushed off to be replaced by Sara Cox and Liza Tarbuck, daughter of Jimmy. They then did Who Wants to Win a Mini-on-air which they used to do on Fridays and the recent Count Down-under.
And not forgetting Wonga, a fantastically simply concept (giant version of Jenga played against chess clocks) that was so well implemented it was worth getting out of bed for.
The viewers didn't actually need to do very much, just predict the outcome of what was actually going to happen, but watching them often made us smile, and if we didn't watch telly at half-seven in the morning to be entertained then what DID we watch it for?
Web links
Complete list of Big Breakfast competitions
Feedback