The Big Fat Quiz of the Year
Line 28:
Line 28:

2008 [[Dara O'Briain]] and [[Davina McCall]]<br>

2008 [[Dara O'Briain]] and [[Davina McCall]]<br>

2009 [[David Mitchell]] and [[Charlie Brooker]]<br>

2009 [[David Mitchell]] and [[Charlie Brooker]]<br>

-

2010 Jonathan Ross and Ruth Jones

+

2010 Jonathan Rossand Ruth Jones

+

''The Big Fat Anniversary Quiz''<br>

''The Big Fat Anniversary Quiz''<br>

Line 69:
Line 70:

* [[Jonathan Ross]] and Ruth Jones

* [[Jonathan Ross]] and Ruth Jones

* Alan Carr and Michael McIntyre

* Alan Carr and Michael McIntyre

+
+
+
+
+

=== The Big Fat Anniversary Quiz ===

=== The Big Fat Anniversary Quiz ===
---
Revision as of 10:23, 28 December 2011
Host
Broadcast
Hot Sauce for Channel 4, 28 December 2004 to present
as The Big Fat Anniversary Quiz, 2 November 2007
Synopsis
Much as the title suggests, this is a comedy quiz about the year just gone - mainly to ensure Jimmy Carr has no day off. Ever. Six questions are asked about two months of the year in turn, with answers scribbled down using electronic pens. The answers are then revealed and scored. Guests come on at various points to liven up the proceedings.
Quite good knockabout fun, even if the swearing will make our Mum blush like a beetroot. Incidentally, we thought we were anal until we found the Wikipedia entry for this show. Hooray for Internet-addicted teenagers!
As part of the celebrations to mark 25 years since Channel 4 began broadcasting, a one-off special, The Big Fat Anniversary Quiz, featuring questions about Channel 4's programming over the previous two decades was aired in November 2007.
Champions
2004 June Sarpong and Jonathan Ross
2005 Sharon Osbourne and Jonathan Ross
2006 Noel Fielding and Russell Brand
2007 Rob Brydon and David Mitchell
2008 Dara O'Briain and Davina McCall
2009 David Mitchell and Charlie Brooker
2010 Jonathan Ross and Ruth Jones
2011 David Mitchell and Eddie Izzard
The Big Fat Anniversary Quiz
2007 Jack Dee and Alan Carr
Participants
2004

2005

2006

2007

2008

2009

2010

2011

The Big Fat Anniversary Quiz
2007

Trivia
Several editions of the BFQOTY have been produced by Jonathan Ross's wife, Jane Goldman, with Ross getting in on the act himself for the 2010 edition.
Web links
Pictures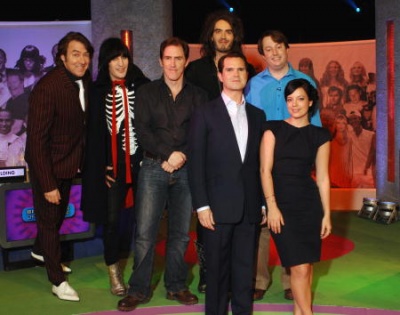 The line-up from the 2006 edition
The 2009 protagonists
See also
Big Fat Anniversary Quiz review
Feedback