The Boss
Line 1:
Line 1:
+
+
+
+

<div class="box">

<div class="box">

Line 7:
Line 11:

== Broadcast ==

== Broadcast ==

-

BBC One, 24 April 2017 to present

+

BBC One, 24 April 2017 to present

</div>

</div>

Line 15:
Line 19:

One contestant becomes The Boss and then uses judgement and tactics to decide which other player is best suited to answer a general knowledge or brainteaser question. If The Boss isn't good enough, they won't stay in power.

One contestant becomes The Boss and then uses judgement and tactics to decide which other player is best suited to answer a general knowledge or brainteaser question. If The Boss isn't good enough, they won't stay in power.

-

{{notaired}}

+

{{}}

+

 

+
+

 

+
+

 

+
+

 

+

== Web links ==

== Web links ==

Line 21:
Line 33:

[http://www.bbc.co.uk/programmes/b08nz33y Official site]

[http://www.bbc.co.uk/programmes/b08nz33y Official site]

+
+
+
+
+

[[Category:Awaiting Review|Boss, The]]

[[Category:Awaiting Review|Boss, The]]

[[Category:Current|Boss, The]]

[[Category:Current|Boss, The]]
---
Revision as of 17:51, 7 May 2017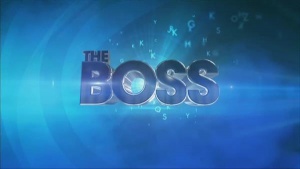 Host
Broadcast
BBC Studios for BBC One, 24 April 2017 to present
Synopsis
One contestant becomes The Boss and then uses judgement and tactics to decide which other player is best suited to answer a general knowledge or brainteaser question. If The Boss isn't good enough, they won't stay in power.
If you can help us to expand this entry, please provide as much information as possible, using the feedback form below.
Title music
Marc Sylvan
Inventors
The credits say "developed by Kieron Collins, Gareth JM Edwards, Ross Haymes, Damon Pattison". Collins and Edwards are also credited as Executive Producers.
Web links
See also
Feedback