The Chop
Host
Lee Mack and Rick Edwards
Co-hosts
William Hardie (judge)
Broadcast
Big Wheel Film & Television and Motion Content Group for Sky History, 15 October 2020 (1 episode in 1 series + 8 unaired)
Synopsis
A press release said:
Master Carpenter William Hardie oversees the construction of a grand and spectacular cabin in the woods, adding a new room every week, each on a different historical theme, including Nelson's cabin on HMS Victory, a Victorian pub, a Gothic bedroom, a Georgian hunting lodge, and a 1960s' Mad Men-inspired lounge. The contestants are tasked with creating amazing items and artefacts to furnish the rooms whilst expert guest judges with specialist knowledge of the different historical eras help Lee, Rick and William decide who progresses to the next round and which will get the chop. Week by week the cabin evolves to become a living museum of what is possible in woodwork.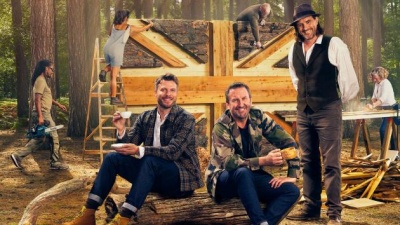 Rick and Lee sit, as William stands in his hat.
A co-production with A&E Networks, a rugged and outdoorsy channel in North America, as we can see in the made-for-export weekly themes. The first week divided the woodworkers into teams to make living room furniture; future weeks would test them on their own skills.
Our review notes from the first episode: "very blokey, smell the testosterone, lots of plaid shirts and chainsaws. Rewards hard work and graft as much as artisan craft." It was an adequate and competent show on a niche pay-tv channel, never likey to make waves.
We might have made comparisons with The Great Garden Challenge (2) on Channel 5 the year before. They follow a creative process like a police procedural drama, it's an interesting tale but we don't get much emotional involvement from the process. The first episode lacked the sparkle and humanity from The Great British Bake Off, though we might have grown into the contestants' characters during the series.
But we won't remember The Chop for being adequate. Or, indeed, competent. Almost a week after broadcast, it emerged that contestant Darren Lumsden had white supremacist facial tattoos. Sky spent an afternoon trying to defend the indefensible, before taking the show off air. Given that the contestant appears to have made the series final, we think it's unlikely that the remaining eight episodes will be broadcast.
Trivia
Filmed on location in Epping Forest near London.
Billed in some sources as The Chop: Britain's Top Woodworker.
Web links
Sky put up a History Channel programme page, with details of each episode. It was taken offline when the show was removed from the schedules.
See also
Weaver's Week covers the cancellation
Feedback