The Generation Game
Line 34:
Line 34:

== Broadcast ==

== Broadcast ==

-

BBC 1, 1971-81 and 1990-02

+

BBC 1, 1971

+

1990

-

BBC 1 (''Generation Fame'' one-off), 2005

+

BBC 1 (''Generation Fame'' one-off), 2005

</div>

</div>
---
Revision as of 13:51, 1 September 2006
Host
Bruce Forsyth (original host)
Bruce Forsyth (again)
Roy Castle (substitute)
Paul O'Grady (pilot, unaired)
Graham Norton (Generation Fame)
Co-hosts
Hostesses: Anthea Redfern
Isla St Clair
Rosemarie Ford (1990-1994)
Sally Meen (1995)
Melanie Stace (1996-2000)
Francine Lewis (1998-1999)
Lea Kristensen (2001-2002)
Broadcast
BBC 1, 2nd October 1971 to 3rd January 1982 (198 episodes) BBC 1, 7th September 1990 to 13th April 2002 (215 episodes)
BBC 1 (Generation Fame one-off), 31st December 2005
Synopsis
The Generation Game involved four couples where the two members of each team were a generation apart (hence the 'generation' bit of 'The Generation Game'). The four couples split into two sets of two couples who faced off against each other. The winners faced each other in the final and the winners of the final played the conveyor belt game (did we go a bit fast for you there?)
The games themselves relied on the hilarity that normal people are rubbish at anything remotely difficult. An expert demonstrated how to do something, say modelling something using a potter's wheel or wallpapering an overhang or dressing up a shop window then the players tried to emulate the feat, usually in less time than the expert took.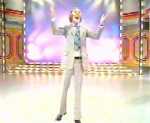 Original host Bruce Forsyth welcomes his audience
After watching the contestants make complete fools of themselves for a few minutes, they brung the expert back in to judge their efforts. Most games involved the players in the teams playing separately so each team got two marks out of ten which was added together to make the score for that round. Funnily enough, you could do really badly but would still get a mark just as high as somebody who was actually far better 'just for trying', which was nice.
After two rounds, the team with the highest score went through to the final whilst the losing team were sent home - with a Quivvering Bloke as a consolation prize in Davidson's version.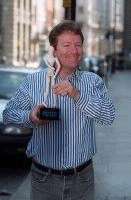 Jim Davidson and "quivvering bloke"
After being put through the rigmarole again, the finalists usually did some major dance or acting role with the added hilarity of the players not being able to read very well so the lines came out all wrong. These pieces would usually involve someone quite famous too who in olden days would have marked each team but by the end the winners were decided by the democracy of the audience vote. That's New Labour for you.
The winners then played The Conveyor Belt game where they had to remember as many of the twenty objects that passed in front of them as they possibly could - one of which would be the infamous giant cuddly toy. All together now - "Aaaahh!". For each one they could recall (or were blatantly reminded by the hosting at the time) they won that prize. In the Forsyth years they also had Brucie Bonuses, seemingly worthless objects which if recalled were opened up to reveal a holiday. In Davidson's tenure they had to remember 15 out of 20 to win the holiday.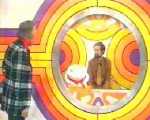 The conveyor belt game. Did they really use colours like that in the 1970s?
The show had quite an interesting lineage with regards to hosts.
Way back in the mists of time old Brucie boy hosted with co-host, and (at the time) wife Anthea 'Teeth' Redfern. He regularly asked her to 'Give us a twirl', she replied 'Cadbury's haven't invented them yet' (not really). He also sang the show's theme tune (see below). Of course, when he sang "Life is the name of the game" which is wrong of course, since The Generation Game was the name of the game. With inaccuracies like that it's no wonder he left.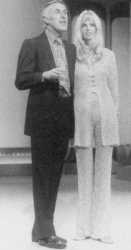 Bruce Forsyth and Anthea Redfern
He was replaced by Larry 'Camp' Grayson with Isla St Clair. Larry Grayson was camp, there's no denying that. His catchphrase was "Shut That Door" and was a popular host. He didn't try to be Brucie and he did this by having his own style. He also asked "What are the Scores on the Doors, Isla" but Jim Morrison was unavailable for comment.
Then shock of shocks, it ended.
Then the BBC bought it back! With Brucie as host! With the original theme tune! With Rosemarie 'Who?' Ford! Perhaps it was a testament to the format or the choice of hosts that the updated versions still managed to pull in a reasonable amount of viewers. Yup, Brucie was back and stayed for another four years, and didn't he do well? Friday nights with this and Challenge Anneka had the BBC basking in a blaze of glory.
Near the end of the Brucie run, for one reason or another Jim Davidson stood in for an episode. He proved so popular (apparently) that when Brucie left he did it full time. Rosemarie Ford left and in came Sally 'GMTV' Meen who smiled a lot but didn't really gel into the format. However, the theatrically trained Melanie Stace was then drafted in to the show's line up.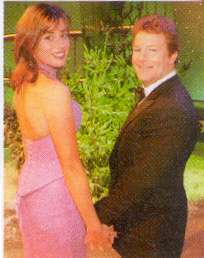 Jim Davidson and Melanie Stace in a publicity photo for a Christmas show
The final hostess - Lea Kristensen - may have been familiar to regular game show viewers as one of the models on Bruce's The Price is Right. Jim met her at the Harry Ramsden's fish and chip bar in Heathrow Airport and it was "love at first sight". Who says romance is dead?
By that time of course the show was all modern and tacky and family orientated. There were plenty of laughs (sorry, we meant "plenty of gunge"), more emphasis on contestants making fools of themselves and appearances of special guests, a veritable "Who's That?" of past-it celebs. In some ways, the new-style series wanted to be Tiswas pure and simple, except not nearly as good and by that time we preferred watching Blind Date anyway, so nerrrr.
Although it had a few dodgy patches, this was one of the best-loved and longest-lasting UK variety formats of all time, and finally ended in 2002 after getting thrashed in the ratings by Pop Idol. Didn't it do well?
Key moments
A guaranteed mass nervous breakdown from the audience every single week when Brucie (hosting at his absolute Bruciest) inevitably decreed "Ohh! Didn't they do well?".
Catchphrases
Bruce Forsyth: "Nice to see you, to see you, nice!", "Good game, good game!", "Let's meet the eight who are going to generate!", "Give us a twirl, Anthea", "What's on the board, Miss Ford!", "Didn't they do well?!", "Our contestants have no idea what's coming up, they have not rehearsed, this... is their... rehersal."
Larry Grayson: "Shut that door!", "What are the scores on the doors, Isla?" (or, in later series, "the awards on the boards"), "What a gay day!", "Look at all the muck in 'ere!" and so forth. And instead of "Didn't they do well" it was "What a lot you got!"
Jim Davidson: No real catchphrases as such, but lots of bizarrely out-of-place catchgunge.
Inventor
Based on the Dutch show (Een Van De Aacht - literally, One Out of Eight) that was part game, part chat show. They dropped the chat for the Brit format. In fact, they dropped just about everything except the conveyor belt at the end.
Theme music
The best remembered version of the theme music was sung by Bruce Forsyth himself, and begins thus:
Life is the name of the game,
And I wanna play the game with you.
Life can be terribly tame,
If you don't play the game with two.

Yeah life is a go-as-you-please

And I need some place to go with you.
Life can be oh-such-a-tease,
If you don't play the game with two.

Trivia
Bruce met hostess Anthea Redfern at a Miss Lovely Legs competition - she later became his second wife.
An anagram of Bruce Forsyth's Generation Game is Embarrassing Ego of the Century.
One episode was watched by 23.9 million viewers during the 1979 ITV strike, making it the highest ever rating for a UK game show.
The Generation Game was unsuccessfully piloted in the USA as A Piece of Cake, with Forsyth as host.
Jimmy Tarbuck was offered the host's job when Larry Grayson left, but turned it down to do Live At Her Majesty's for ITV instead.
Merchandise
A Bruce Forsyth's Generation Game book was published.
Web links
Nostalgia Central's Generation Game page
Pictures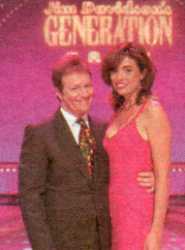 Picture 1
-
Jim Davidson
and Melanie Stace.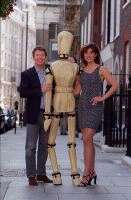 Picture 2
-
Jim Davidson
and Melanie Stace with a giant version of the "quivvering bloke" which seemed to be a modern mascot for the show.
Feedback