The Great British Bake Off
Line 59:
Line 59:

<div class="image">[[File:Bakeoff weddingtrad1.jpg|400px]]''Ruth's traditional wedding cake being tasted by her fellow contestants and judges Mary and Paul''</div>

<div class="image">[[File:Bakeoff weddingtrad1.jpg|400px]]''Ruth's traditional wedding cake being tasted by her fellow contestants and judges Mary and Paul''</div>

+
+
+
+

==Champion==

==Champion==
---
Revision as of 22:36, 24 August 2011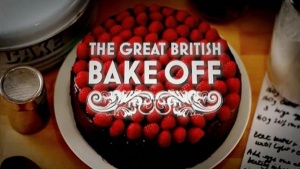 Synopsis
Mel and Sue host as ten home bakers compete in a nationwide baking contest. Each week sees the home bakers set three challenges designed to test a particular baking discipline. The home baker judged the best at the end of the series wins the title of Britain's best amateur baker. (What sort of a title is that? "Awesome Baker of the Year", that's a title.)
Each of the six weeks tests a different area of baking, and takes place in a different location. Each week there are three rounds. The first is the signature bake, which is essentially a free choice for each contestant to dazzle the judges with their favourite recipe. Then there's the technical bake, in which all the contestants have to make the same thing, from one of the judges' own recipes (though they're not given the complete method, so have to fill in the blanks from their own experience and preference). And then there's the final challenge (in 2011, the showstopper challenge), which requires each contestant to produce several varieties of a given thing (e.g. bread rolls or small cakes), in batches.
In each of the first two weeks, two contestants were eliminated at the end, then one was eliminated each week until the final. The elongated second series was a straight one-goes-each-week process.
In between the bouts of baking, Mel and Sue presented (separately) inserts about the history of baking. Don't expect all of these to make it into the commercial TV edits, even though they did manage to get some historians we vaguely recognise (like Kate Williams and Matthew Sweet) to contribute. Possibly the strangest contribution was the explorer Sir Ranulph Fiennes showing off "the world's most expensive biscuit" - the one that Robert Falcon Scott didn't live long enough to eat, which Fiennes paid £4000 for at auction.
So what did we think of the show overall? Frankly, at times it felt a bit half-baked. For one thing, why reunite a comedy duo and then give them almost no opportunity to interact? Also, an issue regarding the two judges: why did Paul Hollywood nearly always manage to overrule Mary Berry during the judging-process? While Hollywood's knowledge and ability as a master baker are certainly not in doubt, it often seemed ridiculous that Berry's equally intelligent and well-informed (albeit from a rather different angle) opinions appeared to have little or no influence in the decisions regarding who should stay and who should go - surely it should have been more of a two-way process?
And was it really necessary to make the contestants trek up and down the country like that? While the travelling aspect sometimes gave Mel and Sue a hook for their inserts on food history, it mostly seemed like the itinerary had been thrown together just for the sake of a few bad puns. Pastry in Cornwall (where the contestants were indeed asked to make Cornish pasties), fair enough. Puddings in Bakewell, OK. Bread in Sandwich was rather more contrived, considering that not only did he not invent it, but the Earl commemorated in the snack had only a nominal connection to the town and was actually from Northampton. Which means the town of Sandwich has about as much to do with the lunchtime staple as a Moray coastal town has with William G. Stewart's favourite Greek frieze. As for scones in Scone, don't get us started.
If there was any intention that the contest being "on tour" would draw crowds of onlookers (and the open-sided marquee was clearly an invitation), it didn't really work due to the tent generally being pitched in various picturesque but out-of-the-way locations. They only really drew a crowd in Bakewell, the one place where the marquee went up in the town centre.
Still, for all its faults, the series turned out remarkably well. There was a lot of camaraderie between the contestants, Mel and Sue were as likeable as ever (even if they never really got the opportunity to display the comedy skills that made them famous), and you could even learn a lot (no actual recipes - though many of them can be found online, on the official site or on the contestants' own blogs - but plenty of helpful tips).
Like good baking, it was a show that left us satisfied, but not exactly hungry for more. However, what initially appeared to be a one-shot summer filler has turned out to be a surprise hit, leading to a longer second series (11 weeks rather than six) with a number of subtle but positive tweaks, dropping the touring aspect and the separate voiceover, giving Mel and Sue a bit more space to do their thing, and - so far as we can tell - evening out the power balance between Berry and Hollywood. Which pretty much answers all of our original criticisms, so hats off to those responsible.
Trivia
Between the first two series, there was a special edition which, although it didn't actually acknowledge it on screen, was quite transparently made to tie in with the wedding of Prince William and Kate (or Catherine, as "the Palace" insists on calling her) Middleton. Called The Great British Wedding Cake, it reunited the three finalists from series 1 and challenged them to each make a "traditional wedding cake", and a "contemporary wedding bake". Mel and Sue were absent, and strangely weren't really missed, with the history inserts featuring Paul and Mary instead. Actually, now we think about it, it's maybe not that strange - after all, the two-judges-and-a-voiceover format has served Masterchef perfectly well for years. Mel and Sue returned for the second series proper.
Catchphrases
(Mel and Sue): "On your marks, get set....bake!"
Champion
Edd Kimber
Merchandise
The Great British Book of Baking (hardback)
See also
Pictures
Feedback