The Great Model Railway Challenge
Host
James Richardson and Tim Shaw
Co-hosts
Judges: Steve Flint and Kathy Millatt
Broadcast
Kinckerbockerglory for Channel 5, 5 October 2018 to 26 October 2019 (14 episodes in 2 series)
Synopsis
Ever since The Great British Bake Off turned into a massive hit, television has wanted to recapture the magic. The Great Model Railway Challenge is one of the most convincing attempts.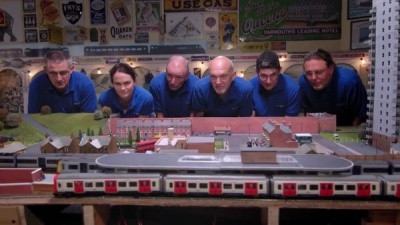 A team gazes on their picture of suburbia.
The concept is simple. Groups of people have a day to create a miniature world around a train track. They're given a theme, and the most wowsome train layouts come back in the final.
Hosts James and Tim ask the right questions, they let the contestants explain what they're doing. The judges are transparent about what they're looking for. The whole show is a celebration of achievement - it's fiddly enough to build these layouts, still less to make them look like places we'd like to visit.
A giant hand repositions a tiny detail.
The technical challenge is only half of it. The Great Model Railway Challenge also evokes a mood, a nostalgia for a time when steam trains ruled, when trains and stations had character and charm. Like on Bake Off, this nostalgia is a flavour to enhance the dish, it's not the whole meal.
Channel 5 is slowly building a reputation for high-quality television, and The Great Model Railway Challenge attracted a small but enthusiastic audience. The hosts' incessant punning could get a bit much to bear, though.
Champions
2018 Aberdeen Model Railway Club
2019 Railmen of Kent
Web links
Feedback