The Great Pottery Throw Down
Host
Co-hosts
Judges: Kate Malone and Keith Brymer-Jones
Broadcast
Love Productions for BBC Two, 3 November 2015 to 23 March 2017 (14 episodes in 2 series)
Synopsis
Following the success of The Great British Bake Off, and shows about baking, sewing, hairdressing, gardening, and many many more, the latest traditional craft to get a competitive series is pottery.
Clay sculptors are tested on various competences, with Sara Cox from Radio 2 as host.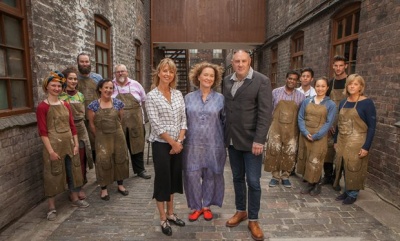 The assembled cast of series 2
Each episode features one main make, and while the potters are waiting for their work to dry there are two other rounds: the throw down which involves making something on the potter's wheel (often several of the same thing within a time limit) and the spot test in which the contestants are given something already made to decorate or otherwise embellish.
If you can help us to expand this entry, please provide as much information as possible, using the feedback form below.
Champions
| | |
| --- | --- |
| 2015 | Matthew Wilcock |
| 2017 | Ryan Barrett |
Key moments
Judge Keith Brymer-Jones getting tearful at a particularly good make. To the extent that it's become this show's equivalent of GBBO's "Hollywood handshake" and in the second series, several contestants mentioned a specific ambition to make him cry.
Theme music
The original opening theme was "I Can't Explain" by The Who, replaced for series 2 with "Making Time" by The Creation.
Various 1960s and 1970s rock songs are used over the closing credits (and throughout). Although not featured over the credits, heavy use is also made of tracks from the album Acid Brass by the Williams-Fairey Brass Band.
The show also has an original score (even if it rarely gets a look-in amid the contents of The 100 Greatest Mod Rock Classics... Ever!) by Bake Off composer Tom Howe.
Trivia
During series 2, Johnny Vegas appeared as a guest judge for a "throw down", challenging the contestants to make five teapots in five minutes. Also making a guest appearance in that series was former Dancing on Ice pro skater Sylvain Longchambon, who modelled for the spot test in the final.
Web links
See also
Feedback