The Hit List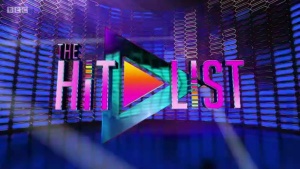 Synopsis
A big and bold music quiz for Saturday evenings. Our hosts are popstars Rochelle Humes (from The Saturdays) and husband Marvin Humes (from JLS). They're joined by three pairs of contestants.
The basic premise of The Hit List is to recognise popular songs from a short snippet. We hear some of the original track, and ask the contestants to name that tune, and who is singing it.
The opening round is on the buzzers, press the plunger to stop the track and give an answer. Whoever gets it right qualifies for a bonus track, one that only they can answer. There's a fairly broad link between all the buzzer questions and their bonuses – family members, or solo acts who worked in a band. There's another point for getting the bonus right, and the first two teams to five points qualify for the second round.
Round two is the themed playlist. The first team to qualify gets to choose the first theme, within which are four pictures. This is a chess-clock round, the clock will only run while they're hearing the snippets. Again, performer and title is a correct answer, and that will stop the clock. Pairs can make lots of guesses, the "first answer only" rule doesn't apply any more.
Don't know the answer? Skip it. A skip will stop the clock – each team has three to use during the round. They then pick another track from the list, play only passes across after a right answer. First team to run out of time loses.
Our winning couple are through to the endgame, where they could – potentially – win £10,000. Name ten tunes, performer and title, all fitting a fairly broad category. (For instance, "Human body" – title or performer contains a body part.) The team has unlimited skips, if they don't know a particular song they can skip it. And they're given five seconds of tune before the money starts counting down at £100 per second. While the £10,000 jackpot is very unlikely to be won, it's very possible to win £7000 and more.
By design, The Hit List doesn't let us sing along with the songs, we don't get the singalong element from All Together Now. Indeed, the clips are so short that many say the show is too staccato, that the music is buried beneath the administration.
There's general agreement that the show needs a slightly tighter edit, and we need to see the final round's five-second countdown on screen. The show fits its brief: it's feelgood light entertainment, light and fluffy and very encouraging.
Web links
See also
Feedback