The Jump
Line 87:
Line 87:

== Web links ==

== Web links ==

-

[http://www.channel4.com/thejump Official site]

+

[http://www.channel4.com/Official site]

[http://en.wikipedia.org/wiki/The_Jump Wikipedia entry]

[http://en.wikipedia.org/wiki/The_Jump Wikipedia entry]

Line 93:
Line 93:

== See also ==

== See also ==

-

[[The Games]]<br>

-

[[Famous and Fearless]]<br>

[[Weaver's Week 2014-02-16|Weaver's Week review]]

[[Weaver's Week 2014-02-16|Weaver's Week review]]

+
+
+
+

[[Category:Reality|Jump, The]]

[[Category:Reality|Jump, The]]
---
Revision as of 03:25, 6 January 2015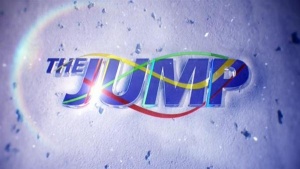 Host
Davina McCall and Alex Brooker
Co-hosts
Mentors: Graham Bell (skiing), Amy Williams (skeleton), Eddie 'The Eagle' Edwards (ski jump)
Broadcast
Twofour and GroupM Entertainment for Channel 4, 26 January 2014 to present
Synopsis
Celebrities competed in a series of winter sports events, under the tutelage of Graham Bell, Amy Williams, and Eddie 'The Eagle' Edwards over the course of a week. Each night two or more celebrities faced a live ski jump in order to keep their place in the competition.
As well as the titular ski jumping, the show demonstrated time-trial and parallel slalom, skeleton bobsleigh, full bobsleigh, speed skating, speed skiing, and ski-cross.
The series courted injury from the start, and finished with a sicklist of six: two pulled out in rehearsals, two were injured during the first few days of competition, and two were unable to finish the final through injury.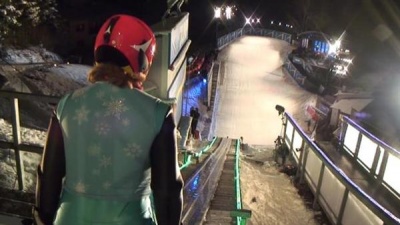 Nicky Clarke finds it's a long way down.
Champion
Joe McElderry
Participants
2014
Steve Redgrave (ex-Olympic rower)
Sinitta (singer)
Amy Childs (ex-The Only Way is Essex person)
Tara Palmer-Tomkinson (socialite)*
Kimberly Wyatt (singer and Got to Dance judge)
Anthea Turner (TV presenter)
Darren Gough (former cricketer)
Marcus Brigstocke (comedian)
Nicky Clarke (hairdresser)
Sam J. Jones (actor)**
Henry Conway (party promoter)***
Melinda Messenger (TV presenter)****
Laura Hamilton (TV presenter)
Ritchie Neville (singer with 5ive)
Joe McElderry (former X Factor winner)
Donal MacIntyre (investigative reporter)
* - Tara Palmer-Tomkinson decided to pull out of the programme shortly before it was due to air. She was replaced by TV presenter Laura Hamilton.
** - Sam J. Jones also left the series before it aired after picking up a shoulder injury. He was replaced by 5ive singer Ritchie Neville.
*** - Henry Conway competed in the first men's event, the giant slalom. However after suffering a broken bone in his hand after crashing during practice for the skeleton, he was forced to withdraw from the competition, He was replaced by Joe McElderry, who won a jump-off against Donal MacIntyre to win the right to join the competition.
**** - Melinda Messenger withdrew from the competition after suffering a concussion during an accident while training for the bobsleigh event. This left her unable to train sufficiently to safely compete. Her place was taken by final stand-by contestant Donal MacIntyre.
Steve Redgrave was injured while training for the ski-cross, competed in some events, but was withdrawn from the final on medical advice. Marcus Brigstocke fell during the ski-cross event, and could not take part in the elimination jump.
2015
Sally Bercow (wife of the Speaker of the House of Commons)
Jon-Allan Butterworth (Paralympian)
Joey Essex (TOWIE person)
JB Gill (JLS singer)
Louise Hazel (heptathlete)
Lady Victoria Hervey (socialite)
Ola Jordan (Strictly professional)
Heather Mills (entrepreneur)
Steve-O (Jackass person)
Dom Parker (from Gogglebox)
Ashley Roberts (ex-Pussycat Doll)
Louie Spence (dancer)
Louise Thompson (Made in Chelsea person)
Mike Tindall (ex-rugby player)
Phil Tufnell (A Question of Sport captain)
Trivia
The programme's working title was 'The Alpine Games'.
Filmed on location in Innsbruck, Austria, host city of the 1964 and 1976 Olympic Winter Games.
The catalogue of injuries meant that the final was curtailed; originally set to last 90 minutes, it concluded after 65.
Web links
See also
Feedback