The Masked Singer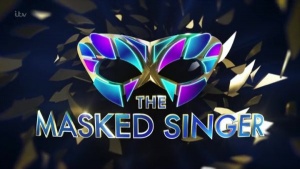 Host
Co-hosts
Panel: Rita Ora, Jonathan Ross, Davina McCall, Ken Jeong
Guest panellists: Donny Osmond, Sharon and Kelly Osbourne
Voiceover: Jim Johnson
Broadcast
Bandicoot Scotland for ITV, 4 January 2020 to present
Synopsis
Celebrities sing while concealed inside costumes.
The stars of the show are the costumes, lifesized creations that look absolutely astounding on-screen. The hedgehog had real quills, the unicorn had a real rainbow mane, and the tree was really wooden.
Inside the costumes are some celebrities. Some are singers - the opening series featured pop stars Kelis and Jake Shears. Some are non-singing celebrities, such as footballer Teddy Sheringham.
The Masked Singer makes a great play about how they've kept the identity of the celebrities secret. They're kept under guard, their speaking voice is disguised, and the celeb has a coterie of guards marking their every move. We might snark at how ITV will tell us what's going to happen in its soap operas, but not on this show.
All of this is to let the pop panel speculate as to who is inside the costumes. The panellists - Davina McCall, Rita Ora, Jonathan Ross, and a guest - make guesses based on the performance. Further clues are included in the conversation on stage, and in video clips filmed backstage.
While the audience is asked to vote for the best performance of the night, almost all of the panel discussion is to identify the singer. Once the worst singer has been identified, their costume is opened and they reveal their human identity.
The Masked Singer encouraged its audience to speculate through online communities, and that only works if you're watching absolutely live. ITV had come across the magic bullet to get people to watch live, and that includes the adverts during the programme. First series ratings were superb - 6 million through the series, peaking at 7.57 million for the final.
Key moments
Jonathan Ross suggesting that Daisy could be singer Natalie Cole, despite the fact that she's been dead since 2015. Oops.
Catchphrases
"I know exactly who this is." - Ken Jeong, which he usually follows with a ludicrous guess.
Champion
2020 Queen Bee (Nicola Roberts)
Inventor
Based on King of Masked Singer, shown on KBS in South Korea. ITV's version is almost a direct copy of the American Fox TV version, itself inspired by a Thai version with spectacular costumes.
Title music
Marc Sylvan and Victoria Horn
Trivia
Character production was by Plunge Creations, from designs by Tim Simpson and Cath Pater-Lancucki
See also
Feedback