The Music Game
Host
Co-hosts
Richard Vranch (keyboard, most episodes)
Jonathan Cohen (keyboard, some series 1 episodes only)
Broadcast
HTV West in association with Mike Mansfield Television for Channel 4, 8 May 1992 to 23 December 1993 (2 series + 1 special)
Synopsis
At the peak of his early-90s ubiquity, Tony Slattery hosted a rather decent quiz about music. Rather than focussing on popular music (Mike Read's Pop Quiz had set the standard ten years before), or serious classical tunes such as in Bamber Gascoigne's Connoisseur, The Music Game treated all music as equal.
Though the games themselves were nothing particularly novel, the show's charm came from the selection of contestants. The choice of three solo players was always inspired, with entertainers like Helen Lederer rubbing shoulders with popstrels like Betty Boo, and on one occasion inviting all three Beverley Sisters to compete as one player.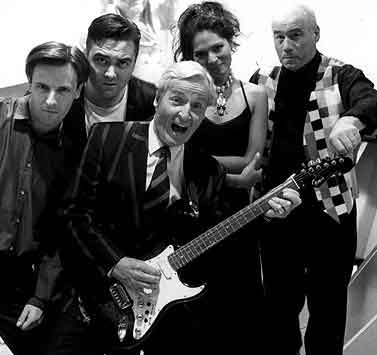 There are so many things wrong with this photo, it's hard to know where to begin.
Host Tony Slattery was regularly joined by another Whose Line is it Anyway? alumnus, Richard Vranch. In one round, he played a prepared keyboard, in which each note was replaced by a different sound effect. Richard Vranch was himself replaced for a few episodes by Play Away and Music Time star Jonathan Cohen.
As a test of musical knowledge, The Music Game was never intended to compete with Radio 4's high-minded Counterpoint. As an entertainment, it was more successful than critics gave credit at the time - the panellists had an enjoyable time, and this came through the television set. The combination of music and fun surely inspired Talback's long-running Never Mind the Buzzcocks.
Trivia
Typical of his wit, Tony Slattery said that guest Nicholas Parsons was "the man to whom Neville Chamberlain once said, 'I'll have the toaster for two pounds, please.'"
Charles Kennedy - a man whose ubiquity would later rival Tony Slattery's - made one of his first game show appearances on this programme.
Web links
Videos

Part 1 of a 1992 episode.
Feedback