The Shiny Show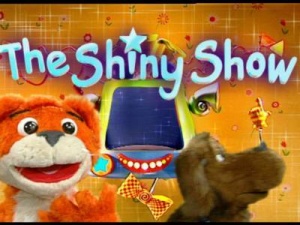 Hosts
Dogsby the dog (Sally Preisig/Sam Mason/Liz Frost)
Mukka the monkey (Wim Booth)
Tigs the tiger (Sue Monroe)

Broadcast
Open Mind Productions for CBeebies, 11 February to 30 July 2002 (91 episodes in 2 series)
Synopsis
The Shiny Show is of the very few game shows in the world aimed at pre-school children, which may or may not be a good thing. In each show, one of the three puppet presenters, Dogsby, Mukka and Tigs, takes a turn to introduce video inserts and ask questions on them. The other two puppets try to answer, and the viewers are encouraged to join in. Successful answering is rewarded with a Shiny - any shiny object. In between the three rounds of the quiz, the puppets play games, sing songs, and enjoy life - apart from Dogsby, who doesn't really enjoy anything except cabbage.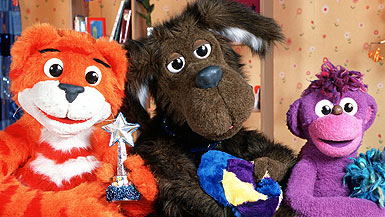 Tigs, Dogsby and Mukka
The show aims to encourage observation, listening and thinking skills, and helps children to develop their imaginations and liking for shiny things. Viewed in moderation, the show is not too harmful.
Catchphrases
"Give yourself a shiny!"
Inventor
Chris Ellis
Trivia
Sue Monroe (puppeteer/voice of Tiggs) also appeared as an announcer for the CBeebies channel between 2002 and 2006.
Web links
Open Mind web page (from 2009, via archive.org)
Opening titles from the BBC Motion Graphics Archive
See also
Feedback