The What in the World? Quiz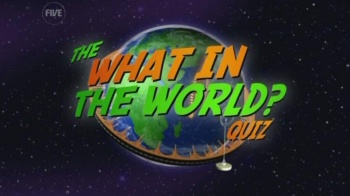 Host
Co-hosts
Team captains: Lee Hurst and Dominic Holland
Broadcast
Shine for five, 5 September 2008 to 11 December 2009 (10 episodes in 1 series)
Synopsis
A quiz on science, nature, technology, and human achievement. Each team captain is joined by a non-famous scientist, who brings in something to show us by way of explaining what they do.
Rounds are a simple multiple-choice round, an against-the-clock round in which the time available for each team's questions is determined by the length of a piece of film chosen from three descriptions, and a predict-the-outcome-of-a-live-experiment round. The final game, something akin to Hitman, is particularly poor. After being a quite tedious film of facts to remember, which takes the people off the screen and therefore is not the least bit entertaining, the teams buzz in to answer fairly straightforward questions on what they've just seen. It's not that clever and not that funny.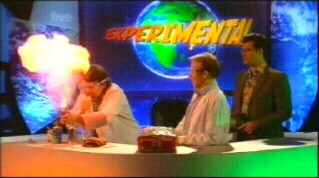 Never mind the science, just show us some explosions
A number of technical irritations let the side down quite badly, not least that its so dark that it looks like it's being lit by a bumper pack of Ikea tea lights. Most annoyingly, the added-after-the-event scoring box shown during the final round is in tiny writing, and, in a spectacularly bad bit of planning, clashes with the Five channel bug. Well done, lads!
This show is the spiritual development from the 2004 broadcast pilot Do Fish Fart?, which Holland hosted, even if its being done by a different production company. Despite the technical flaws, this is the first science-based TV quiz for an adult audience since Brainstorm, a full twenty years ago. Like that show, this is undemanding and looks a bit on the cheap side, but its heart is basically in the right place.
Ten episodes were filmed, but only three made it to air before Five declared that they were "seeking a more appropriate slot" for it. Which used to be ITV's favoured euphemism for "it's not coming back, ever" (don't tell us they're still looking for somewhere to dump a million unaired episodes of I'm the Answer), and appeared to mean the same thing when used by Five. More than a year passed before, to our astonishment and bewilderment, the show did finally return to our screens... in exactly the same slot as before.
Web links
See also
Feedback