The X Factor

Synopsis
Phone-vote based talent show, very similar to Pop Idol, only without an age limit, and allowing bands and solo acts to audition.
In fact, the mechanics of the show are slightly more complicated. After the Hilarious Auditions shows, each of the judges is assigned one set of acts (16- to 24-year-olds, 25-and-overs, or groups) to mentor. They choose the acts which will progress to the studio-based elimination phase. Every week during this phase, each act sings a song, and the viewers vote for their favourite. But! The lowest-scorer isn't necessarily eliminated. The two worst achievers instead must sing again in the second show, and the judges decide who stays and who goes.
All these changes to the Pop Idol format have seemingly been made for the express purpose (aside from the unsuccessful attempt to avoid court cases - see below) to bring the judges into the spotlight as much as possible, essentially overshadowing the contestants themselves. This is evidenced by the fact that the first series' winner - Steve something - has apparently sunk without trace, whereas Cowell, Osbourne and Walsh live in solid gold houses and eat nothing but caviar and unicorn steaks.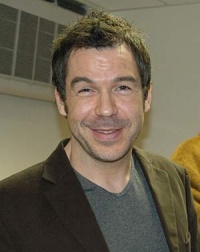 Steve... something
This ramps up the tension, Sharon Osbourne cries a lot blah blah blah, BUT shock horror - the judges are biased (and we didn't get that one from the Sun). Beacuse they obviously want to keep their own acts in, this frequently results in very bad decisions (Conway Sisters and Chico stayed in for far too long).
The X Factor, then, is nothing much other than a butchered version of its predecessor: the host's not as good, the rules make little sense (especially near the end when they change them again, eliminating the judges' say and making the contestants just sing again in the second show), and with pointless pantomime between the judging panel getting in the way of any actual talent that the show might theoretically uncover.
A celebrity version - The X Factor: Battle of the Stars - aired in May and June 2006, as a Big Brother spoiler. Those taking part:
Solo performers: Lucy Benjamin, Gillian McKeith, Michelle Marsh, Chris Moyles, Nikki Sanderson, Matt Stevens
Winners
Series one was won by Steve Brookstein as mentored by Simon Cowell.
Series two was won by Shayne Ward as mentored by Louis Walsh.
Inventor
Technically Simon Cowell, but Simon Fuller of 19 Management took him to court over it for its similarities to Pop Idol. The case was settled out of court.
Trivia
To be completed
Web links
See also
Feedback