They Think it's All Over
Synopsis
Usually brilliant laddish satirical sports quiz show of irrelevance (or should that be irreverence?). Anyway, the team captains are the very posh David Gower and the big-eared crisp-toting Gary Lineker, both aided and abetted by comedians such as Lee Hurst (latterly Jonathan Ross) and Rory McGrath and either a comic or a sports person.
Games include:
Goal Celebrations: Teams try to work out why footballers celebrate the way they do when they scored a particular goal.
Sporting Excuses: Teams try to guess the excuses why a certain team lost at something and usually it's very stupid.
The Injuries Board: A satire of A Question of Sport's Picture board, team captaind pick a number between 1-12 and try to guess how somwthing injured a famous sportsman.
"Leave me out of this argument" - host, Nick Hancock
Sing When you're Winning: Teams hear a couple of lines of a terrace song and they have to guess what the rest of it is.
Author, Author: Teams hear an excerpt of a sportsperson's autobiography and they try to guess who it is.
Publicity: Teams see a publicity picture involving a famous sportsperson (or sometimes one of the other team-mates) and they try to guess what they did it for.
The Photofit round: Three famous sportspeople's faces are cut up and made into a whole new face and teams try to guess which people make it up. The almalgamed faces are usually quite funny and Rory McGrath ALWAYS goes 'I can't remember her name but I think I've slept with her!' Hilariously.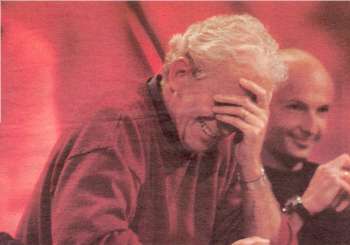 David Gower groans while Frank LeBoeuf looks smug
Sporting Bluff: Each them member tells a story, the other team try to work out which one is the truth.
Electronic Pencil round: Sometimes one of the funniest, a clip is played and then stops and players are asked to draw using their pencils what they think happened next. These included 'guess where the streaker is going to run' and 'guess which way the spit is going to go', usually not what is expected and players often just mess about and draw random objects.
Feel the Sportsman: Brilliant round. Captain and regular comic team-mate are blindfolded and have to guess who the sportsman is by touch alone in 90 seconds. Every week Rory McGrath prays it's Sharron Davies. One week it was her husband...
The Name Game: Regular comic team-mate tries to guess names across to his team-mates but can't say the name or use rhyming clue, "so 'rubbish cricketer, his hair is as white as FLOUR' wouldn't be allowed".
Every week just about all the players get mocked by everyone else which is always funny. And that's it really and very entertaining it is too, all of it not-very-amicably hosted by Mr Hancock. It perhaps ran a series or two too long, but isn't that always the way?
Key moments
It's one of those programmes where they happen regularly but one of the funniest was when earlier in the show the comics managed to manipulate Chris Eubank into saying "Jonah Lomu is a big poof". One of the sportsmen on on Feel the Sportsman was Mr Lomu himself, his was hysterical, but I don't think Lomu quite understood the joke.
Inventor
Originally devised by Bill Matthews and Simon Bullivant as a Radio 5 panel game presented by Des Lynam (which also got repeated on Radio 4). Rory McGrath was a team captain of that too (Rory Bremner was the other). Des also did a pilot for the TV version of TTIAO before pulling out (accounts vary on this, but it seems that either the BBC or Lynam himself took fright at his poor critical notices for How Do They Do That? and decided he should stick to sports presenting), and football anorak John Motson recorded another, but Nick Hancock got the final gig.
Music
Steve Brown. Incidentally, the clip you hear of Kenneth Wolstenholme's famous line at the beginning of the titles was actually a re-recording he did for the show, because the original was too poor-quality to use.
Trivia
Lee Hurst left the show after five series to be regularly (but not always) replaced by Phill Jupitus from Never Mind the Buzzcocks. In the later series, the gap was usually filled by Jonathan Ross or Jo Brand.
Merchandise
They Think it's All Over: No Holds Barred (VHS)
They Think it's All Over: Full Throttle (VHS)
The They Think it's All Over Annual (Hardcover)
They Think it's All Over: Below the Belt (VHS)
They Think it's All Over: Ungentlemanly Conduct (VHS)
The Very Best of They Think it's All Over - A Game of Three Halves (DVD)
They Think it's All Over - Interactive Game (DVD)
You can play a demo of the game here.
Web links
Pictures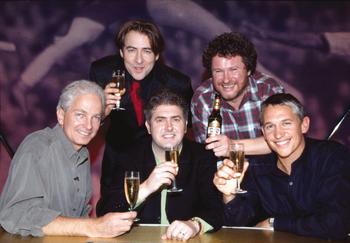 The original gang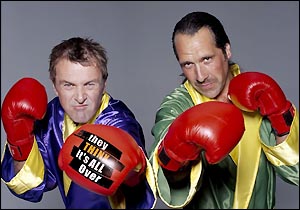 Phil Tufnell and David Seaman
See also
Feedback